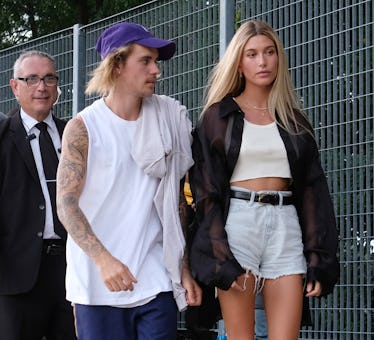 A Reported Detail About Justin Bieber & Hailey Baldwin's Wedding Rings Says So Much
Nicholas Hunt/Getty Images Entertainment/Getty Images
I don't know about you, but I typically associate wedding rings with, well... weddings. If two people get married, I usually, expect to see some new hardware on their ring fingers shortly after the fact. So, when PEOPLE reported that the couple did, in fact, get legally married in a court house on Thursday of last week, I expected to finally get to see Justin Bieber and Hailey Baldwin's wedding rings. But, alas, it looks like I'm out of luck. In fact, odds are I won't be seeing their wedding rings for awhile. (Elite Daily has reached out to both stars' representatives for comment.)
Why, you ask? Well, a source literally told PEOPLE that the couple won't be sporting their rings any time in the near future. "They are not gonna wear wedding rings until after their wedding," the source said. "It will be in the next few months."
Rumors about their secret marriage started swirling about when fans spotted them holding hands as they walked out of a New York court house where marriage licenses are issued. PEOPLE confirmed that the 21-year-old model and the 24-year-old pop star did, in fact, get legally married.
The decision to go to the court house was super spur of the moment, according to the source. "They decided last week to get married," the source told PEOPLE. "They made an appointment [at the court] and seem happy about it. Some family members knew, but they didn't tell friends."
But, according to the source, the two don't really count it as their real wedding. "They didn't want anyone but their families to know they got married," the source shared with PEOPLE. "This wasn't a wedding."
And it seems as if Bieber and Baldwin are very excited for their wedding. I mean, I, personally, am so excited for their wedding. But it seems like they may even be more excited than I am. This court house thing was just a little side show, as far as they're concerned. "They can't wait to have a wedding," the insider told PEOPLE. "But for other reasons, it was easier for them to get the legal stuff out of the way now and to get married. It was more of a necessary ceremony to make it legal. It doesn't seem like it was a big deal to them."
All right, if they're so excited for this wedding, why aren't they just going ahead and doing the dang thing?! As we all know based on their speedy engagement, the two aren't exactly shy when it comes to making quick decisions.
Well, according to the insider, they're stuck on one aspect of wedding planning: venue selection. "They are still planning the wedding and are excited to have a celebration," the inside explained to PEOPLE. "They are still deciding on a wedding location."
I guess if you were two of the most famous people in the world and you had your pick of pretty much any wedding venue your heart desired, picking a location could, in fact, prove to be difficult.
Either way, I'm happy for the newlyweds and can't wait for their big day!
Check out the entire Gen Why series and other videos on Facebook and the Bustle app across Apple TV, Roku, and Amazon Fire TV.
Check out the "Best of Elite Daily" stream in the Bustle App for more stories just like this!