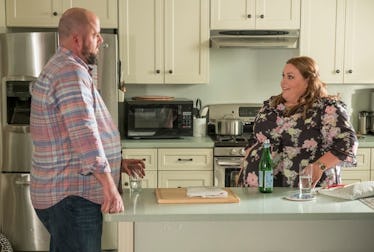 Here's Why You Won't See A New 'This Is Us' Episode On Tonight
Ron Batzdorff/NBC
Sorry, This Is Us fans, but your weekly cry session is on hold until next week. After airing on Tuesdays continuously since Season 3 began in September, the NBC drama will not debut a new episode tonight. Why isn't This Is Us on Nov. 6? The network will run important Election Day coverage during the show's regular time slot.
We're slowly but surely approaching that time of year when TV shows take a holiday break, but it isn't quite late enough for This Is Us's official winter hiatus yet. Although the series will return for three consecutive weeks starting on Nov. 13, This Is Us and the rest of NBC's primetime lineup are moving aside in honor of the United States midterm election. We all want to know ASAP if Randall (Sterling K. Brown) wins a spot on William's neighborhood's city council, but before we do, the nation has to figure out who will run the government IRL.
Beginning tonight at 8 p.m. ET, NBC will run The Vote: America's Future until local news begins at 11 p.m. In early September, NBC announced that NBC Nightly News anchor Lester Holt, TODAY co-anchor Savannah Guthrie, and Meet the Press moderator Chuck Todd would headline the special program. At the time, journalist Megyn Kelly was also included on the panel, but after the recent cancellation of her show Megyn Kelly Today and the ongoing negotiations about her formal exit from NBC, Kelly will reportedly not appear during the coverage.
The Pearson family may not be the faces of your Tuesday night this week, but that hasn't stopped the This Is Us cast from reminding fans why the show isn't airing. Pearson matriarch Mandy Moore shared an Instagram photo of herself sporting an "I Voted" sticker on Nov. 5 and followed that with a map displaying which states allowed same-day voter registration. Mom has got us covered!
In the days leading up to Nov. 6, Papa Pearson, aka Milo Ventimiglia, also uploaded a photo of himself post-vote, while Brown reminded his Twitter followers to visit the polls. In true Big Three fashion, co-stars Justin Hartley and Chrissy Metz followed their onscreen brother's footsteps and also encouraged others to participate in the midterms.
So what can we expect when This Is Us returns on Nov. 13? The promo for the episode "Sometimes" teases footage of the road trip that Rebecca invited Jack on soon after their first date and intimate dish-washing session. The clip shows the two getting along well until Rebecca realizes Jack has haunting nightmares about his experience in Vietnam. Was Jack guarded about his time in service from the very start of his relationship with Rebecca?
This Is Us producers have also revealed that the episode will venture back to Vietnam itself. Executive producer Elizabeth Berger previously told Entertainment Weekly that some answers about Jack's connection to the Vietnamese woman wearing his necklace will come up in Episode 7, saying:
Obviously, she is a part of Jack's larger Vietnam story and what happened over there, and I think we can all feel that Kevin is inching closer and closer to finally launching that journey and getting himself to Vietnam. We are definitely going to get answers, and we're definitely going to see the way she fits into the larger puzzle.
We have to wait another week to see whether those answers are just breadcrumbs leading to another This Is Us mystery, but it'll totally be worth it. In the meantime, make the Pearsons proud and go vote!
Season 3 of This Is Us continues on Tuesday, Nov. 13, at 9 p.m. ET on NBC.