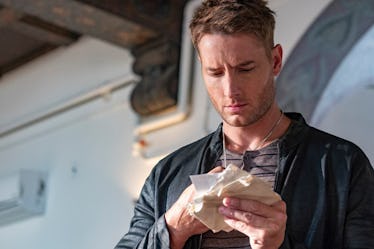 'This Is Us' Revealed The True Origin Story Of Jack's Vietnam Necklace
Ron Batzdorff/NBC
Growing up, Kevin on This Is Us knew close to nothing about Jack's time in the Vietnam War, but his successful movie role as a soldier in the same war encouraged him to find answers. In the episode "Toby," Kevin finally met Jack's old army buddy Mr. Robinson, but the man's photos including the Pearsons' mysterious uncle Nicky weren't exactly what piqued Kevin's interest. Robinson's mementos detailed the origin of the Pearson patriach's pendant, but who was wearing Jack's necklace in the revealing photo? The chain that Kevin now wears has roots in Vietnam, and its background fits in with a far-fetched theory about Jack's war experience.
When Kevin and Zoe visited his Baltimore home in "Toby," Robinson somewhat reluctantly debunked Kevin's lifelong belief that Jack was just a mechanic in the war. Hearing that his dad was actually a beloved squad leader didn't really shake up Kevin, but Robinson initially claimed he lost track of Jack after he was discharged. Before Kevin and Zoe left the city, he had a change of heart and offered Kevin a stack of letters he received from Jack in Vietnam. One envelope in his stash included a photo of Jack hauling buckets in a Vietnamese village alongside a local woman wearing the exact chain Jack gave to Kevin when he had his catastrophic football injury. Um, what?
When he gave teenage Kevin the necklace, Jack explained that "someone very special" in Vietnam gave him the chain, which bears a Buddhist symbol of purpose. Jack revealed that he received the necklace at a hopeless time in his life, perhaps suggesting that the gift came after Nicky's death. If that's the case, Jack likely continued fighting after losing his brother for a considerable amount of time and developed even more emotional baggage. So how does this woman connect to his loss?
As POPSUGAR points out, she first appeared briefly in last week's "Vietnam" episode. When a child in the Vietnamese village ran up to Jack and his commander to show off his giant fish, the boy's mother ran over to scold him. It was easy to miss, but eagle-eyed fans noticed that Jack's chain was around her neck in that moment. Although Jack didn't seem to know the woman, she obviously ended up playing an important part in his time there.
The new focus on the woman even ties in with old but persistent theories about Jack's love life before Rebecca. When the second season finale's flashforward footage revealed Kevin en route to Vietnam, fans wondered if another Pearson who was the result of a wartime fling between Jack and a local woman existed there. At a SXSW panel in Austin earlier this year, Milo Ventimiglia seemed to reject the idea that Jack fathered another child, joking, "Jack loved Rebecca before he even knew Rebecca." On the other hand, This Is Us creator Dan Fogelman teased that anything was possible, so let's not rule out a long-lost half-sibling just yet.
Of course, the fact that this woman gave Jack her necklace doesn't automatically mean they shared a romance. If the two got to know each other after Nicky's death, perhaps the woman was just reminder for Jack that, at the core of things, people are still good. Robinson's photos also seemed to suggest that Nicky joined Jack's unit of men introduced in "Vietnam," meaning that the younger Pearson spent time in the peaceful fishing village where the woman and her son lived. Rather than the woman falling for Jack, could she and Nicky have formed feelings for each other? Maybe the necklace was a token of love for Nicky that Jack took once his brother died.
Regardless of the truth, seeing Jack love someone who isn't Rebecca would be a lot for viewers to handle. Here's hoping that the information Kevin uncovers about the woman isn't too devastating. Season 3 of This Is Us continues on Tuesday, Oct. 30, at 9 p.m. ET on NBC.