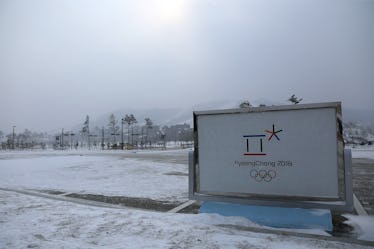 Here's The Reason Why Russia Isn't Competing In The Olympics
Michael Heiman/Getty Images Sport/Getty Images
This is probably a hot take, but I think the Winter Olympics is one of the best sporting events ever. From multiple variations of skiing, snowboarding, luging, and ice skating, to curling, bobsledding, and the ever-puzzling biathlon, there's never a dull moment amidst all of the winter fun. Though we can't be totally sure of what to expect for these upcoming olympics in PyeongChang, South Korea, we do know that one leading Eastern European country definitely won't be in attendance. So in case you didn't already know, here's why Russia isn't competing in the 2018 Olympics.
According to The New York Times, Russia's Olympic team, previously a leading Olympic Games champion, was found guilty by the International Olympic Committee (IOC) of participating in a doping scandal throughout the 2014 Winter Olympic Games in Sochi. Russia's sports ministry allegedly hired a team of anti-doping masterminds to mess with over 100 urine samples in an effort to hide their use of steroids. When the IOC released their ruling, they took extreme and drastic measures in December 2017, wiping Russia's record of winning any titles at Sochi. While dozens of their athletes had allegedly been using steroids, 15 of them were winning medalists.
After the team was found guilty, IOC members consulted Russia's former sports minister, Vitaly Smirnov. He said,
Everyone is talking about how to punish Russia, but no one is talking about how to help Russia. Of course we want our athletes there, and we want the Russian flag and anthem.
Because of the IOC's ruling, the medals that Russia won are instead being given to the runner-up athletes from other countries, although they have not all been reallocated, as some appeals are still happening, according to BBC. The Russian Olympic Committee was also fined $15 million by the IOC. All Russian athletes tied to the doping scandal were eternally banned from competing in the Olympics, and this year, the entire team is banned. The Russian anthem and flag won't be at the opening ceremony, and with recent permission from Russian President Vladimir Putin, athletes who have not been found guilty of doping have been given the opportunity from to compete neutrally (aka not under the Russian flag).
Amidst the commotion in December 2017, The Chicago Tribune reports that Putin accused the U.S. of manipulating urine-based evidence from the 2014 Sochi Olympics. Putin's claims stemmed from assumptions that the former Moscow anti-doping lab director, Grigory Rodchenkov (who has since fled the country to the U.S. and is currently under witness protection), is "under control" of American agencies, which includes the FBI. Officials from the Russian government are now even proposing that Rodchenkov may have deceived non-drug using Russian athletes into taking steroids, declaring them to be dietary supplements. But nobody is entirely sure of his intentions or exact whereabouts.
Surprisingly, Russia isn't the first country to ever get banned from the Olympics. So, this whole situation really isn't as embarrassing or as unusual as you may have initially thought. Kuwait was actually banned from the Rio de Janeiro Olympics in 2016 after passing a law that allowed interference with national sports federations, according to Washington Post. India was also banned from the first few days of the Sochi Winter Games in 2014 for electing officials who had been previously been accused of breaching the Olympic code, according to BBC. Countries have actually been getting banned for the last 100 years, as it turns out — so the fact that Russia has been totally eliminated from competing in this year's Winter Games really isn't so strange after all.
So while don't know what exactly this year's Winter Games will being, aside from the the women's Jamaican bobsled team kicking some major butt and that Shaun White attempting to make a victorious comeback from his latest accident, we do know that many Russian athletes will not make an appearance in South Korea this year. However, I do hope to see many of their innocent athletes still competing separate from their flag, because it'll make for an awesome comeback story. If you're excited to watch the games began, tune in to the Opening Ceremony on Friday, Feb. 9 at 8 p.m. ET on NBC.