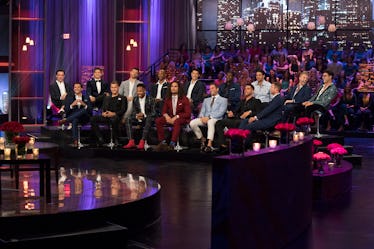 This 'Bachelorette' Contestant Was A No-Show On 'Men Tell All' & Fans Have Something To Say
ABC
The Men Tell All special attracts everyone from the favorites to the forgettable of the Bachelorette season, and Season 14 was no exception. While the front row of contestants included beloved faces like Jason Tartick and Wills Reid, the back row consisted of men you probably swore you never saw before, but one of the season's most controversial men wasn't present. Contestant Lincoln Adim was missing from the lineup of men, so why isn't Lincoln on Men Tell All? The group might not have acknowledged his absence on camera, but Chris Harrison had an answer for fans from behind the scenes.
Halfway through the season, Bachelor alum Ashley Spivey and spoiler guru Reality Steve revealed that 26-year-old Lincoln was convicted of indecent assault and battery in May. Convicted a week before Becca Kufrin's Bachelorette season premiered, Lincoln was sentenced to a year in a house of correction before this time was suspended in favor of a two-year probationary period, according to Entertainment Tonight. Following the publicization of the news in mid June, Lincoln was eliminated from The Bachelorette in Week 6 after clashing with problematic contestant Chris Randone.
On June 14, Warner Brothers released the following statement: "No one on The Bachelorette production had any knowledge about the incident or charges when Lincoln Adim was cast, and he himself denied ever having engaged in or having been charged with any sexual misconduct. We employ a well-respected and highly experienced third party who has done thousands of background checks consistent with industry standards to do a nationwide background check in this case. The report we received did not reference any incident or charge relating to the recent conviction - or any other charges relating to sexual misconduct. We are currently investigating why the report did not contain this information, which we will share when we have it."
While Warner Bros. claimed that Lincoln lied about his conviction, host Chris Harrison had stayed quiet about the off-screen controversy until speaking to ET backstage at Men Tell All, saying:
I did not want [Lincoln] here nor did he deserve to earn the right to be here. He forfeited that right obviously with what he did, and lying to us and deceiving everybody. So no, I'm very glad that he was not here and he was not extended an invitation.
Fans on Twitter were mostly in agreement with Harrison, posting their thoughts on the show not even acknowledging Lincoln's actions at Men Tell All. Others also felt differently, wishing that ABC addressed the failure of its background check on the show.
Meanwhile, in true journalistic fashion, Spivey called out the season's contestants for not addressing Lincoln's controversy on their own in her own powerful tweet.
Harrison also addressed the season's other off-screen scandal of Garrett Yrigoyen's controversial social media likes. Now in the final two alongside Blake Horstmann and thus not expected to attend the Men Tell All, the 29-year-old sales rep publicly apologized for liking Instagram posts mocking feminists, trans people, and the Parkland shooting victims, among other things. In comparing the two cases of controversy, Harrison told ET:
I have spoken to Garrett. And one thing I do wanna clear up too is that Garrett and Lincoln should not be in the same sentence. Garrett did something that you don't agree with, or that a lot of people don't agree with. And that's fine, that is your prerogative, and it might be mine too. That's not against the law. What Lincoln did was against the law, very different. There is a very big difference and people need to be very cognizant of that when they're just throwing out these sentences and lumping people together.
Harrison does make a good point about the treatment of each of these men's cases, but we'll have to wait and see if Garrett's own touch of scandal is even addressed at the After the Final Rose special next week. Appearing as either a heartbroken runner-up or as Becca's new fiancé, Garrett will have plenty to discuss at the live event, but I'd be surprised if the Instagram likes weren't addressed. Meanwhile, ABC definitely acted fairly accordingly when it came to dealing with Lincoln's post-show status on The Bachelorette.
The Bachelorette returns on Monday, Aug. 6, at 8 p.m. ET on ABC.