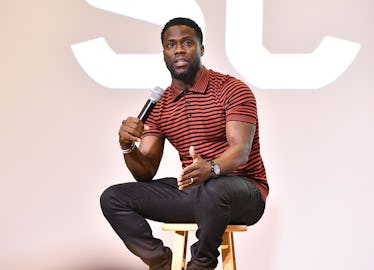 Kevin Hart Stepped Down From Hosting The Oscars Days After It Was Announced
Paras Griffin/Getty Images Entertainment/Getty Images
Picking an Oscars host seems to get trickier every year. Once the Academy has gone through its regular rotation of late night hosts and veteran comedians, selecting someone outside of this tried and true group usually doesn't go so well. Although the Academy's most recent pick for Oscars host seemed to be strong, trouble has already hit the award ceremony plans. Why isn't Kevin Hart hosting the Oscars? He stepped down nearly two days after receiving the position.
ICYMI, reports that the comedian would host the 91st Academy Awards first emerged on Dec. 5. Hart took to Instagram with a long, heartfelt message about the opportunity, writing:
For years I have been asked if I would ever Host the Oscars and my answer was always the same...I said that it would be the opportunity of a lifetime for me as a comedian and that it will happen when it's suppose to. I am so happy to say that the day has finally come for me to host the Oscars. I am blown away simply because this has been a goal on my list for a long time.
With the news out in the open, the internet did what it tends to do when someone is receiving attention: research. Focus on Hart's old, homophobic tweets, as well as comments he made during a stand-up routine nearly a decade ago, grew throughout the next day. According to Variety, several of the offensive tweets were deleted throughout Thursday. Hart eventually posted an Instagram video in response to the controversy, revealing that the Academy of Motion Picture Arts and Sciences had contacted him to ask for a formal apology.
In the clip, he said:
I chose to pass on the apology. The reason why I passed is because I've addressed this several times. This is not the first time this has come up. I've addressed it. I've spoken on it. I've said where the rights and wrongs were. I've said who I am now versus who I was then. I've done it. I'm not going to continue to go back and tap into the days of old when I've moved on and I'm in a completely different place in my life.
Hours later, Hart's strong stance against apologizing apparently shattered. In a tweet, he announced that he has stepped down from the hosting position, writing, "I do not want to be a distraction on a night that should be celebrated by so many amazing talented artists." He then apologized to the LGBTQ community for his past remarks.
So, what comes next? Industry sources tell Variety that the Academy has particularly struggled in finding an Oscars host this year, and compared to past announcements, the hiring of Hart was later than usual. With awards ceremonies kicking off soon after the holidays, the pressure is on to find a replacement.
Late night host Jimmy Kimmel has helmed the broadcast the past two years, but seeing as 2017's Best Picture mix-up is definitely still giving him nightmares, we probably shouldn't expect him to step in at the eleventh hour. The Oscars could always take a familiar route and recruit an old-school host like Whoopi Goldberg or Billy Crystal, but the one exciting thing about Hart in the job was the prospect of seeing a first-time host. We'll have to wait and see who steps into his shoes.
The 91st Academy Awards air on Sunday, Feb. 24, 2019, on ABC.