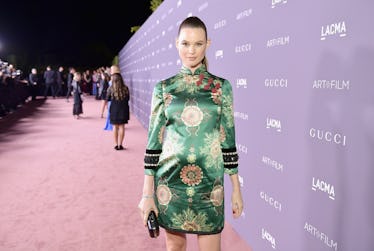 Behati Prinsloo Is Missing The 2017 Victoria's Secret Fashion Show & The Reason Is Simple
Neilson Barnard/Getty Images Entertainment/Getty Images
It's one of my favorite times of the year. Thanksgiving is on its way. Christmas is right around the corner. The Victoria's Secret Fashion Show is about to hit our televisions and remind us all that angels really do exist. You know — magical stuff. But this year, people are wondering why Behati Prinsloo isn't at the 2017 Victoria's Secret Fashion Show. Listen, plebeians... she's pregnant. And, she's not just "normal pregnant" either. She's pregnant with Adam Levine's second baby, which is extra special.
Prinsloo's appeared in nine consecutive Victoria's Secret Fashion Shows, and opened up two of them in 2014 and 2015 as the first model to hit the runway. In fact, there is an epic video of her receiving the news she'll be opening the show for the second time, in which she triumphantly shouts "YESSS!" It is part of an awesome behind-the-scenes video by Entertainment Tonight that shows the ins and outs of what goes into creating the show's iconic angel wings and outfits.
Each model has a designated set of looks, and designers from all over the world are honored with the task of manifesting wings to match Victoria's Secret's fashion lingerie. In the video, the models giddily try on their masterpieces and strike some serious poses. The wings range from butterfly wings to fireworks and feathers, and each one is more breathtaking than the last.
Honestly, the whole thing is pretty fascinating. Take a look.
Still, don't feel sorry for Prinsloo for missing out this year.
While she won't be strutting her stuff on television, she will be working on her own magical creation.
Prinsloo and Levine married in 2014, and had their first child together two years later. They named their daughter Dusty Rose, and she couldn't be any cuter.
Fans were so excited to see Prinsloo's second baby bump growing in a gorgeous pic she posted on Instagram in September.
In the photo, she's casually leaning on a bathroom sink next to some plants in a bathing suit. She captioned the photo, "ROUND 2..."
Fans left notes of excitement like, "Beautiful momma!," "OMG!," and my personal favorite, "Yassssss."
Prinsloo has been open about how wonderful being a mom is, and says she's mostly shocked to find out how deeply she's capable of loving someone. She told People magazine,
I love Adam, and when you get married and you fall in love with someone, you think that there's no greater love than that love. And then you have a baby, and it's just next-level love.
She added the most surprising part about motherhood is "the fact that you could love a person more than you ever thought."
For his part, Levine is totally smitten with his gorgeous family. During his speech while accepting his Hollywood Walk of Fame star, he said,
I have a daughter, I have the most beautiful wife in the entire world. I am one of the luckiest people who has ever lived, and it has nothing to do with me. It has to do with the people who love me the most.CBS
And now, his incredible family is growing by one.
We still don't have a definitive due date for baby number two, but fans are keeping their eyes peeled with anticipation. There are a lot of theories circulating around if the baby will be a boy or girl, and fans are more than happy to offer up names they think would fit with Dusty Rose.
Hate to break it to you, public, but it's not up to us.
Tune in to the Victoria's Secret Fashion show to watch Prinsloo's friends work the runway on Tuesday, Nov. 28, on CBS!