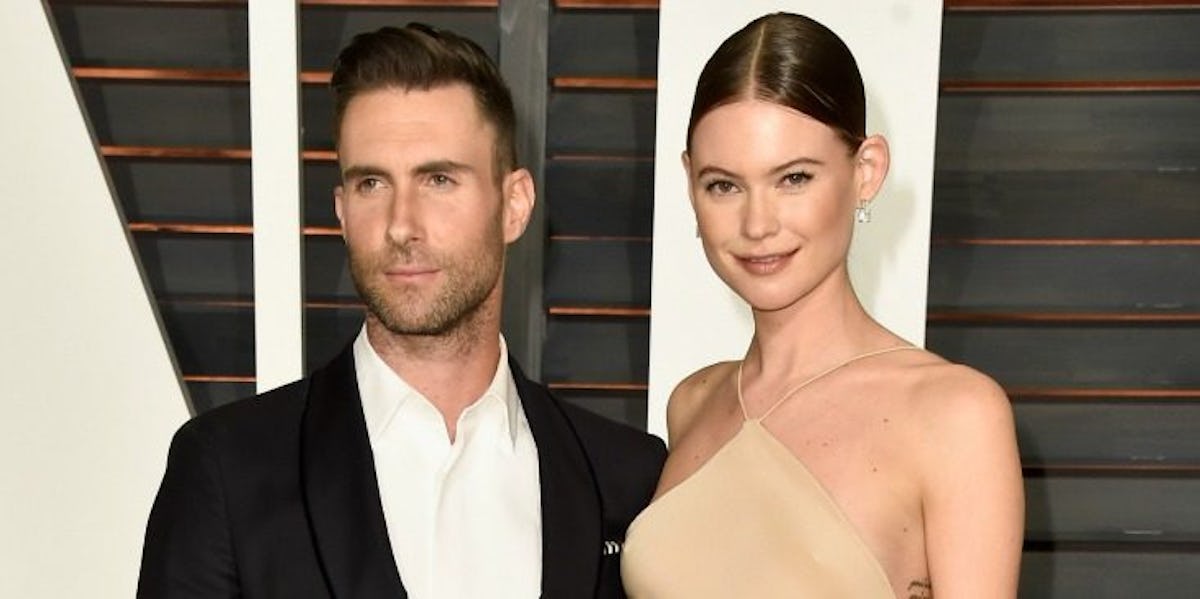 Adam Levine & Behati Prinsloo Are Expecting Baby Number Two & Fans Are Freaking Out
Getty
Dusty Rose Levine is going to be a big sister! Yup, on Wednesday, Sept. 13, Behati Prinsloo revealed she's pregnant with her and Adam Levine's second child in an Instagram post, simply captioned "ROUND 2....." The couple has been married for three years and welcomed little Dusty Rose in September of 2016. She'll be celebrating her first birthday later this month. A source close to the family told People, "Adam and Behati are so happy to be adding another baby to their family. They're amazing parents and their loved ones are thrilled for them."
Back in August, Prinsloo got real about her experiences during her first year of motherhood and how it has changed her perspective on how much a person can love. She said,
I love Adam, and when you get married and you fall in love with someone, you think that there's no greater love than that love. And then you have a baby, and it's just next-level love.
Based on Prinsloo's Instagram post, it seems like Prinsloo is already a couple of months along! I literally have no idea how celebrities keep marriages and pregnancies secret for so long, but it impresses me like none other every single time. In the photo, Prinsloo is showing off her growing baby bump in a bathing suit while posing in a bathroom. Look at that beaming face!
Fans of the couple are freaking out over the news.
Levine and Prinsloo have one of the cutest relationships in Hollywood.
On Aug. 3, Levine posted a hilarious photo of him and Prinsloo hanging out on a boat. The picture is honestly what dreams are made of, and his caption only makes it better. He said,
Every once in a while, the stars align… The mood is right, the lighting is flawless, and the expressions on our faces speak a thousand words without uttering a single syllable. I'm not saying it's the perfect photo. But I'll be damned if it ain't as close as anyone has even come. #truth
They were even cuter when they debuted Dusty Rose at Levine's Hollywood Walk of Fame ceremony.
Look at how stinkin' cute and happy that family is!! Dusty Rose Levine made her public debut when her dad was given a star on the Hollywood Walk of Fame on Feb. 10, 2017. Back when Levine and Prinsloo were still engaged in 2013, Jay Leno asked Levine if he remembered telling that he would never get married, ever. He laughed and replied,
Famous last words: 'I'll never get married.' You know, I still don't think you have to get married, unless you meet someone that makes you want to marry them. And then you marry them and it's wonderful.
My heart is bursting. Find you a person who loves you so much that they're like, "LOL, I was such an idiot before I met them." My dream.
Right after they got married, Levine said he wants to have 100 kids, so safe to say he's excited for baby number two!
Levine joked in a 2014 interview with Ryan Seacrest, "I want to have 100 kids. I want to have more kids than is socially responsible. We can't do it right now, but it's in the works."
And Levine's Voice co-stars were apparently surprised to hear he and Prinsloo were expecting baby number two so soon!
According to Hollywood Life, everyone on The Voice thought Gwen Stefani and Blake Shelton would have their first baby together before Levine and Prinsloo had their second, but they're all of course very happy for the couple. The source revealed,
The Voice crew were all surprised with the pregnancy announcement, but are very happy for Adam becoming a father again. They saw how much he loved becoming a father last year, so everyone feels very happy for him and his family. But everyone thought the next baby in The Voice family would be coming from Blake [Shelton] and Gwen [Stefani]. Everyone is expecting Blake and Adam to joke about that during the show when the show finally ends up going live later in the year. Everyone expects they will joke about how many Voice winners they each have and how many babies they have.
Congrats to Adam, Behati, and Dusty!! May you greet baby number two with as much pride and joy as Adam did when he saw Behati walking in her Victoria's Secret Fashion Show wings.