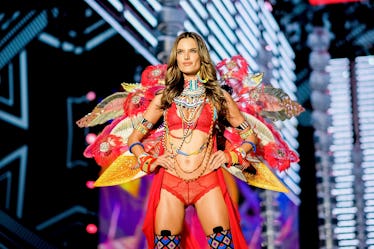 This Is The Reason Alessandra Ambrosio Isn't Walking In The VS Fashion Show This Year
Matt Winkelmeyer/Getty Images Entertainment/Getty Images
The annual Victoria's Secret Fashion Show is returning to New York City on Nov. 8 after two years overseas, and the hype is so real, you guys! Veteran models like Candice Swanepoel, Behati Prinsloo Levine, Bella Hadid, and Romee Strijd have been teasing images on social media of their fittings and their intense #TrainLikeAnAngel workouts as they get ready to hit the catwalk in teeny, tiny pieces of clothing accented with ginormous sets of glittery, feathery wings. But there is one iconic Angel who won't be present. So, why isn't Alessandra Ambrosio in the 2018 Victoria's Secret Fashion Show?
I mean, the Brazilian beauty has strutted her stuff on the VS runway 17 times, so it def won't be the same without her. But it turns out that Ambrosio will be MIA for a good reason. The 36-year-old mom of two hung up her Angel wings and retired after last year's Victoria's Secret Fashion Show in November 2017, and is now spending more time with her kiddos.
"Words cannot describe how grateful I am to have been working for this amazing brand that inspires me and women all over the world," she explained in an Instagram post the morning after filming the show in Shanghai last year. "In my wildest dreams I would have never imagined doing 17 Victoria's Secret Fashion Shows. Last night was so emotional to say goodbye to my #angel sisters but we put on the biggest and best show ever. I could not have done this without all the love and support from my fans. It gives me great pride to be part the Victoria's Secret movement! I will always be cheering for you! Love you forever."
So sweet! I love how, before closing the show, she stopped to draw a heart in the air and blow a kiss to the crowd. I am really gonna miss watching her and those killer cheekbones crush the catwalk!
Meanwhile, the 36-year-old model really does seem to be enjoying all the time she has to hang with her kids now. In fact, instead of prepping for the runway, she's currently vacationing with them at the Montage Los Cabos in Mexico.
Check out this stunning selfie she shared from the beach on Nov. 5:
Fire!
The model mama also posted this adorable close-up pic with her mini-me, daughter Anja, on Nov 4:
"Sunbathing with my favorite," she captioned the sweet shot.
Here's another pic she posted of both of her children splashing in the waves on the beach:
Priceless!
And it looks like the cute fam of three — Ambrosio shares Anja and Noah with her ex-partner Jamie Mazur — has been busy getting a couple of other vacays in, too.
Here they are at the Golden Gate Bridge:
At Big Sur:
And "spring breaking" in Hawaii:
I'm not jealous, you are.
Of course, since Ambrosio travels so much for work, when she's not on the road, she's a pretty big fan of the whole staycation thing, too.
"We love going to the beach, hanging in Malibu and playing volleyball," she recently told People. "Here in California, it is just so easy. We like going rollerblading and biking, all kind of things!"
These kiddos are so lucky to have such a fun, active mama. I wonder if she would consider adopting me.