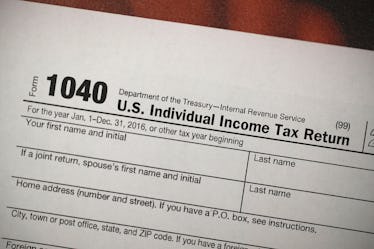 The IRS Website Crashed On The Last Day To File Taxes, So Time To Panic
Joe Raedle/Getty Images News/Getty Images
If you waited to the very last minute to pay your taxes and have been scrambling to get them done before the deadline, I hate to be the bearer of bad news, but the IRS website is apparently down. It sucks because the last day to file is April 17, and if you've ever missed the deadline, you know that it's a chronic headache trying to file thereafter. So, why is the IRS website down? Word on the street is that there are some technical difficulties.
UPDATE: The systems are reportedly back up and running, and the IRS has issued a "one-day, penalty-free extension" for taxpayers to submit their filings, according to The Wall Street Journal. The new deadline for filers will be at midnight on Wednesday, April 18.
EARLIER: According to USA Today, the "Direct Pay" page on the Internal Revenue Service's (IRS) website, which is a free service that allows users to transfer funds from their checking or savings account to pay their tax bill, is currently unavailable. Filers who attempt to access the page will reportedly see a message that reads,
This service is temporarily unavailable. We are working to resolve the issue. Please come back later and try again, or you can visit the Make a Payment page for alternative payment methods. We apologize for any inconvenience.
However, CNBC noted that the "Payment Plan" page, which allows filers to pay what they owe in installments, has also crashed, which makes the matter even more frustrating as the Tax Day deadline inches closer and closer.
There are other options for filers to get their taxes squared away, though. An IRS spokesperson told CNBC, "Currently, certain IRS systems are experiencing technical difficulties. Taxpayers should continue filing their tax returns as they normally would."
Taxpayers can still file with paper checks, or with debit or credit card payments through the IRS website. However, it won't be free of charge: debit users will have to pay a fee between $2 and $3.95. And filers who use credit cards will be responsible for expenses around 2 percent, per CNBC.
Also, as a result of the crash, tax programs such as TurboTax or H&R Block aren't able to transmit filings. However, both are also holding taxpayers' returns until the IRS is able to process them, which gives late filers another outlet to get their taxes completed on time. So, don't be discouraged just yet! There are ways around this thing.
IRS Acting Commissioner David J. Kautter also told The Washington Post that, even if the system isn't back up today, taxpayers wouldn't be punished for missing the deadline. "If we can't solve it today, we'll figure out a solution," Kautter said. "Taxpayers would not be penalized because of a technical problem the IRS is having."
Aside from the failures on the IRS website, taxpayers actually had two extra days to complete their taxes. The deadline is usually on April 15 — however, this year the date fell on a Sunday and April 16 was Emancipation Day, which is a legal holiday in Washington D.C., pushing this year's deadline back by two days. Still, the extension was certainly amazing news for the procrastinators among us.
On March 8, the IRS urged people to get out and file their taxes, announcing that it had around $1.1 billion in unclaimed federal income tax refunds for an estimated 1 million taxpayers who didn't file in 2014.
In a news release from the IRS, Kautter explained,
We're trying to connect a million people with their share of $1.1 billion in unclaimed refunds for 2014. Time is running out for people who haven't filed tax returns to claim their refunds. Students, part-time workers and many others may have overlooked filing for 2014. And there's no penalty for filing a late return if you're due a refund.
$1.1 billion is some serious cash, so I hope that those who didn't file in 2014 can at least file their 2017 tax returns (if they haven't already). And for anyone else, good luck to you, too! Hopefully, the site'll be fixed in no time.