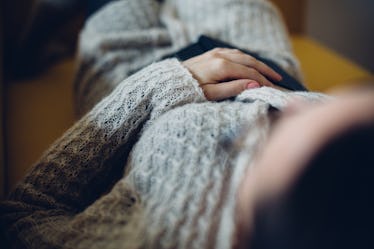 Experts Reveal The 5 Things That Could Explain Why Your Period Is Always So Heavy
Anyone with a uterus will tell you no two periods are identical. Every female reproductive system adheres to its own monthly cycle and brings along with it an individualized set of symptoms based on your unique body. Your sister, for example, might have a light flow, while you're going through tampons like they're your favorite tube of mascara. This is just another example to add to the pile of why being a woman isn't always fair, because seriously, why is your period so heavy, while the rest of the world can do back-handsprings and swim marathons when they're flowing?
Before I dive into the details on why you might be experiencing heavy periods, let's talk about what it actually means to have a heavy flow. Dr. Rachel Zigler, an OBGYN in Missouri, and a fellow for Physicians for Reproductive Health, tells Elite Daily the term is actually quite subjective. To determine whether or not your flow is clinically considered "heavy," Dr. Zigler says, your gynecologist will first take into consideration whether or not "you soak through a pad/tampon every hour for several hours, need to wear more than one pad at a time, or bleed for more than seven days."
From there, the question is whether or not the "heavy" bleeding is clinically considered "normal" or "abnormal." According to Drs. Hedieh Asadi and Gunvor Ekman Ordeberg, of DeoDoc Intimate Skincare, most women will shed around one to 1.5 ounces of blood during their period. These experts tell Elite Daily that "more than 2.5 ounces is considered heavy menstruation, or menorrhagia."
Of course, the absolute best way to determine whether or not your heavy flow is cause for concern would be to talk to your doctor about it. But, for now, if you want to get a better feel for what could be going on down there, here are some possibilities to consider.