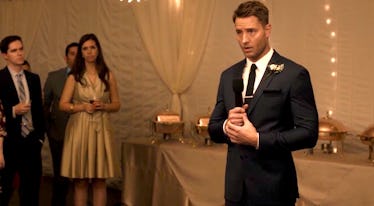 The 'This Is Us' Season 2 Finale Leaves Us Asking Serious Questions About Kevin's Future
NBC
We knew that the This Is Us Season 2 finale was going to be big, but nobody expected it to drop this many bombshells in the last couple of minutes! Having recently aired the answer to the central mystery of how Jack Pearson died, This Is Us used the final moments of its Season 2 finale to set up a handful of alarming new questions that will keep fans guessing up until the Season 3 premiere later this year... and probably throughout much of that new season as well. One of these big questions: Why is Kevin going to Vietnam on This Is Us? The surprise ending suggests that Kevin is will be getting in touch with his father in an entirely new way when the show returns. Spoiler alert: Obviously, don't keep reading if you have not watched the This Is Us Season 2 finale "The Wedding" yet.
As we already knew from previews, the Season 2 finale focused on Kate and Toby's wedding. Kevin and Randall were put in charge of organizing the whole ceremony, which became an increasingly stressful task after Kate freaked out about not being able to find Jack's old shirt and ran off in an attempt to find some way to incorporate her dad into the wedding. Luckily, everything worked out fine after Kate realized that she needed to let go of her fervent hold on her father's memory a little bit in order to make some room for Toby. The wedding ceremony went of without a hitch, and then Kevin and Randall each gave heartwarming speeches about how much they love Kate at the reception.
All peace, love, and goodness, right? Well... you just knew that This Is Us wasn't going to let us go without a sucker punch right to the emotions. As Kevin and Randall give their toasts at the end of the episode, we start to see a series of alarming scenes: Deja smashes Beth and Randall's car, and flash forwards to the future show Kate dealing with the worsening of Toby's health and an old Randall and Tess distressingly agreeing that it is time to go see someone. Who are Randall and Tess worried about going to visit? The safe bet seems to be Beth, since she has been notably absent from the Randall flash-forwards and theories that she may have died or divorced Randall have been rampant online, but they could also be talking about Deja or Annie. Whoever it is, Randall and Tess' trepidation makes it sound like something very bad is going on.
But one of the most surprising revelations in the flurry of cliffhangers is that Kevin is on an airplane bound for Vietnam. Oh, and he's not alone!
The final shot of Kevin shows him looking at the photo of Jack and Jack's younger brother Nicky from when they were stationed in Vietnam together. Jack never talked about Nicky that much, even though he spent the better part of his childhood raising his brother, since their dad was an absent alcoholic. When they were drafted into the Vietnam War, Nicky died before getting to come home.
Although Jack is dead, Kevin's bond with his father has grown a lot in this past season. He struggled with addiction and sought out recovery in much the same way that Jack did, and kept the medal that Jack gave to him before his death as a reminder to keep fighting. That medal originally belonged to Nicky, so it looks like Kevin is flying to Vietnam in order to learn more about his dad, but also more about the uncle that he never got to meet.
Kevin's also got a new girlfriend to go on this trip with him: Beth's cousin Zoe.
We don't know too much about Zoe yet, seeing as she was only just introduced in this episode, but she was more like a sister to Beth growing up than a cousin. Apparently, Zoe's mom left her with Beth's parents, and although initially hostile, Zoe grew to love them. Oh, and she's also a minister, who married Kate and Toby.
We will have to see what adventures and discoveries Vietnam holds for Kevin in Season 3 of This Is Us.