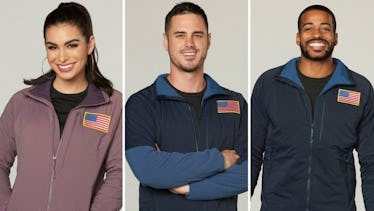 The 'Bachelor Winter Games' Cast Spills Serious Details About The New Show
ABC
It's hard not to fall head over heels for hilarious Bachelor alum Ashley Iaconetti's relatable charms. The two-time Paradise participant and contestant from Chris Soules' season has not only won fans over with her addictive podcasts (Almost Famous with Ben Higgins is perfect for all your insider franchise insight and witty commentary to boot), but she also has a reputation for crying her eyes out on national TV. It's endearing, really. So, why is Ashley I. crying on Bachelor Winter Games? The meme-able promo for the latest addition to ABC's reality dating competition programming roster has Bachelor Nation buzzing.
If you've watched the trailer (we've viewed it at least six times now, but who's counting?), you probably noticed that Ashley's crying fit is featured front and center. The clip teases, "The Bachelor has always been hot, but on February 13 it gets cold," highlighting moments from the upcoming episodes, including shots of cast members in the snow, as well as walking in some sort of reality parade of nations. Yes — there's also a glimpse at somebody wiping out on skis. Then the intriguing promo jokes, "We promise, Winter tears are coming." Cut to poor fan fave Ash sobbing, "I don't know why I'm always friend-zoned. I'm just so confused."
So, why the tears? Cast members Ashley, Dean Unglert, and Eric Bigger chatted with People about what to expect from Bachelor Winter Games four-episode run and Ashley even weighed in on that whole bawling thing. She explained,
The [scene where I'm crying in the promo] was at the end of the first 24 hours there, and it's exhausting ... It's a whole bunch of scenarios unfolding in front of my face — I'm seeing my guy friends go on dates and I'm seeing another guy that I may have interest in having interest in another girl. So it's just like, a culmination of emotions!
Oof. Now we're even more intrigued about said "scenarios." Ashley additionally told People that Winter Games is "better" than Bachelor in Paradise and Bigger noted, "it was a good time."
Ashley's recent Ben and Ashley I Almost Famous Podcast provided futher enlightening intel regarding her dramatic Vermont journey. Bibiana, a fan fave cast-off from the current Arie season, took time out to be their guest and it sounds like she and Ashley were involved in some sort of love triangle while competing on Winter Games. Ben spilled,
You and Ashley had a very... Let's just say this. Winter Games is going to be a lot of fun... There's some great relationships that form. And you and Ashley have a situation that comes up during Winter Games that could have completely destroyed your friendship. But the two of you handled it so well. And to be very vague here, this situation happens in the real world a lot and it often times destroys friendships. But the two of you I think built a relationship around this common interest on Winter Games.
We're guessing that common interest isn't bobsledding? Obviously there's no bad blood considering Bibi and Ash were laughing together throughout the conversation, and the two of them spoke to their immediate bond and how communication between them was key throughout their situation.
Whatever went on between them, it sounds like their closeness withstood the extermnal drama. Aww. Once again, The Bachelor universe creates long-lasting friendship. It's not just for romance, people!
Now that more details and promos are being released and the cast is teasing what's to come, we're getting pumped for The Bachelor Winter Games' Feb. 13 premiere. Bring on the love, sweat, and inevitable tears. Bachelor Nation is ready for it.