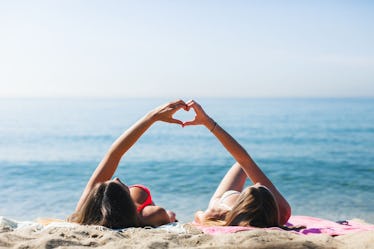 Why Going To The Beach With Your Sis Is The Most Underrated Part Of Your Summer
Dating back to when you were just a kid, your sister has always been your favorite beach buddy. From building sandcastles to chasing the tide, no one could tell you two that you weren't mermaids. Going to the beach with your sister as an adult still brightens your entire summer. Your beach days still consists of collecting seashells and wearing adorable sunnies. Now, you guys can travel to beaches all over the globe if you want to because the wanderlust struggle is real. That beach from your childhood, though is always going to be your favorite.
Being a beach bum with your sister is literally the highlight of your summer, no matter how simple it sounds. That's your ride or die and when the two of you get together (especially with Mai Tais in hand) there's no telling where those fun times will lead you. It's summer, so enjoying it to the max is mandatory, and you couldn't imagine living your best life with anyone else. It might be a little challenging to grasp if you don't have a sister or super close BFF, but here are seven reasons why heading to the beach with your sis deserves so much more kudos for being the grandest part of your summer.