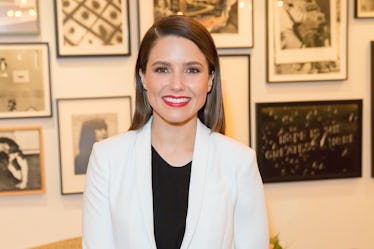 Sophia Bush Has Some Advice For Dealing With Your Nonsensical Relatives During The Holidays
Jeff Schear/Getty Images Entertainment/Getty Images
If you spent the better part of the week racking up Cyber Monday deals and buying one too many crop tops, you might be wondering how to restore some good vibes into the universe and take the time to do something for the greater good of the world. After all, the idea of giving back during the holidays is just as common as your sudden urge to cozy up by the fire with a cup of hot chocolate. If you're feeling guilty about overdoing it on Cyber Monday, #GivingTuesday is the perfect way to find balance and feel good about doing something for someone else. At least that's what Sophia Bush suggests. In an interview with Elite Daily, Bush tells me it's just as easy to give back as it is to be sucked into the hustle and bustle of the holidays. The actress and activist is partnering with PayPal for #GivingTuesday in order to help you make a 101 percent donation to the charity of your choice.
On Tuesday, Nov. 28, PayPal is adding 1 percent to every donation made using PayPal, with no fee deduction on PayPal's end, ensuring 101 percent of what you spend goes to those in need. Last year, through the same campaign, PayPal donated more than $48 million to charities, and it's on track to do the same this year. If you're new to giving back, Bush has provided a few easy ways to get started, along with some much-needed advice on how to handle your loudest, fact-deprived relatives this holidays season.
Don't Know Where To Start? Get Involved With Bush's Favorite Charities
"I'm hyper-focused on girls' education and the environment," Bush tells Elite Daily, "Fighting globally on behalf of our environment is really fighting on behalf of human health," she says. Bush works with The Nature Conservatory, which is matching all donations on Nov. 28. In a time when even the president of the United States is denying climate change, giving back to organizations making it their mission to save the planet is one of the most powerful forms of resistance this year.
Bush also works with The Girl Project to raise awareness for education of young women. Even just $5 can provide a girl in need with school supplies. As Bush points out, that's basically the price of forgoing your morning latte for a day. If you can't donate money to The Girl Project, you can also sign up to mentor a girl in your city.
Don't Know What To Get Someone? Donate To Their Favorite Charity
"Figuring out ways to support causes that you know are important to people is meaningful to them because it shows you pay attention," says Bush. Did you and your bestie walk arm-in-arm at your local women's march this year? Consider donating to a local Planned Parenthood in her name. Did she just adopt a furry friend she can't stop raving about? Donate to The Humane Society through PayPal, and tell her all about how 101 percent of your donation went to help other animals in need.
Your friend doesn't need another ugly Christmas sweater as a gag gift. Let her know you're listening and supporting what moves her by gifting her with a donation.
Arm Yourself With Facts
OK, so you did your part and gave back, but you still can't help but get totally overwhelmed and flustered whenever your Uncle Joe starts talking about how much he loves Donald Trump. A lot of people choose to have a no-politics rule at the family table (especially this year!), but Bush says you don't need to go silent in order to have a peaceful holiday season.
Instead, she says, arm yourself with facts. "If the powers at be keep can us distracted and bickering about things we shouldn't be, then we're too busy to fight the larger issues at hand," says Bush. She suggests taking the "hot button" issues off the table, and talking to people like people, not like your enemies. At the end of the day, Bush says, regardless of political affiliation, everyone cares about their family, their kids, and their health. If you start with simple yes or no questions, it's easier to find common ground with those who might normally disagree with you.
Bush says to start simply. For example, Trump's proposed tax bill would make it impossible for teachers to write off the cost of school supplies in their classrooms. Ask your family member who's hyped about the tax bill if they agree with this. "Just say is this a yes or a no for you? How do you feel about this? That particular issue doesn't feel right to me; talk to me about where you're coming from," says Bush.
If you educate yourself on a few key facts regarding the issues that are most important to you, you cannot only participate in political banter this year, but you can actually help disarm some myths that might be trying to gain steam in your family's living room. The point is, don't be afraid to get involved. This might be the only time some people in your family ever get to hear a young woman's perspective on the world, and it's the perfect time to show them you actually know what you're talking about.