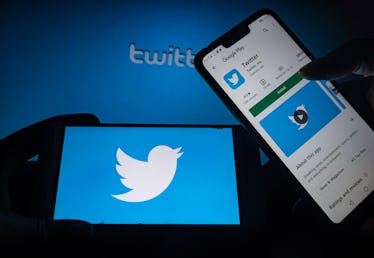 Here's What To Know About Creating Voice Tweets On Twitter
NurPhoto/NurPhoto/Getty Images
Twitter's voice tweets feature lets you record audio clips to publish as audio tweets, and it's a game-changer when 280 characters just aren't enough to get your point across. The test feature lets you record voice notes to publish as tweets, but some people are still having issues tweeting with the audio message feature. If you aren't seeing it in your app, here's why you don't have Twitter voice notes, which are official known as voice tweets.
If you have it, the Twitter voice tweets test feature isn't hard to find (once you know what you're looking for). To check, try composing a tweet from the Twitter app on your phone. If you see a purple icon with waves on it by the camera icon, you have the feature. You can also try updating your Twitter app if you don't see it right away. If, after updating, you still don't see Twitter voice tweets, there are a couple of reasons you may not have it, starting with what device you're using to access Twitter.
The feature began rolling out in June 2020, and as of April 2021, Twitter voice tweets are available to select iOS users, so if you have an Android phone, you're currently out of luck. The company said in a September 2020 tweet that it would be rolling out the voice tweets for Android users sometime in 2021, but did not specify exactly when.
To share a voice Tweet, open up the tweet composer. Then, tap on the wavelength icon to the left of the camera button. This will take you to a page with your profile photo and a record button beneath it. Hit record to start capturing your voice note tweet. Twitter lets you record up to 140 seconds of audio, which is a bit over two minutes. But, if that isn't enough, don't hit the stop button. Instead, keep talking, as Twitter will automatically create a new voice tweet in the same thread for you. When you're finished, select the Done button to end your recording. If you're ready to make it official, tap "Tweet" to post it to Twitter.
Once you've finished a voice tweet, you and your followers will see it in the feed, with an image of your profile picture and the option to hit play. Keep in mind it's not possible to make a voice tweet in replies or by quote tweeting, but that might change in the future.
Although Android users aren't able to create voice notes on Twitter, they can still see them in the feed, listen to them, and comment on them.
Twitter's voice tweets join the company's other recent efforts to expand the ways users can express themselves on the social media platform, including Twitter Fleets and live photo GIFs. In a blog post shared on Sept. 2, 2020, Twitter revealed it was working on rolling out more accessible features, including adding automated captions to audio and video on the platform by "early 2021" and testing voice DMs. In the meantime, iOS users can get acquainted with voice tweets and to share their thoughts in an audio message.
This article was originally published on