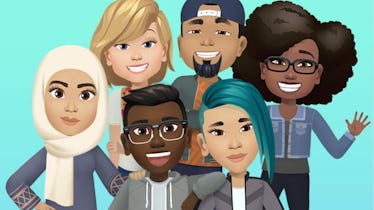 Here's How You Can Find Your Facebook Avatar & Get Creative On The App
Courtesy of Facebook
Thanks to Facebook's Avatar feature that launched in the app for iOS and Android users in May 2020, you've probably seen the social media company's take on personal doppelgängers flooding your feed. Facebook users can get creative all over the app, putting Facebook Avatars in comments, Stories, and even in Messenger. However, if your Facebook Avatar isn't showing up, you might be wondering where to find it. Here's what you can check if your Facebook Avatar isn't working.
The Avatar feature on Facebook lets you create an animated version of yourself that you can use in stickers on the app. Once you create one, you can send it to your friends in Messenger, use it in your comments on the Facebook app, or post it in your Facebook Stories. The feature began rolling out to U.S. users in May 2020 and to Facebook users in South Africa in August 2020. As of April 2021, Facebook Avatar should be available for all Facebook users in the United States, Australia, Europe, and South Africa.
If your Facebook Avatar is not showing up on your app, you might need to update your Facebook app on iOS or Android. Once you've updated in the App Store or Google Play, check to see if you can find the Facebook Avatar feature. To do this, use any comment box and click on the "smiley" button, then the sticker tab. Tap "Create Your Avatar." You can also go to the Facebook bookmarks section (the three lines in the top-right corner of the app), tap "See More," and select "Avatars." If you see an Avatar from a friend in your feed, you can also tap on the "Try it" button on their post.
If you've updated your app and your Facebook Avatar still isn't working, it may depend on which app you're using. You can create an Avatar in the Messenger app and the Facebook app, but in the Messenger app, there are a couple more steps. To create a Facebook Avatar in Messenger, open up any conversation, and tap the smiley face in the text box. From there, tap the middle icon that looks like a square smiley face. You'll see an option that says, "Make Your Avatar." Tap on that, and you'll be taken to the Avatar maker. You can tap on the pencil icon to get started.
The update was a wide rollout, so it should be available after you update your app, but if you've tried both those fixes and still don't see it, you can always try deleting and reinstalling the app on your phone.
Once you have it, creating your Facebook Avatar is like creating a Bitmoji on Snapchat. Scroll through the customization features including skin tone, hairstyle and color, eye and nose shape, bone structure, glasses, hairstyles, and more. If you'd like to compare your appearance IRL to your Facebook Avatar, you can tap on the mirror option in the top-right corner to post a comparison pic.
Once you've finished, you can share your Facebook Avatar to your feed, use it in the comments as a sticker, or choose a pose and make it your profile picture. You can change your Avatar any time you'd like by editing it in the Avatar bookmark in the Facebook app.
This article was originally published on