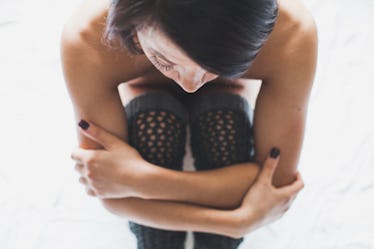 7 Painful Realities You Face Every Day When You Have Vulvodynia, Or Chronic Vulvar Pain
If you have a vagina, you've probably experienced, at one point or another, an unusual amount of pain, itching, rawness, or sensitivity down there, and asked yourself — likely with a little worry in tow — why does my vagina hurt? Is this normal? Do I need to be concerned?
First off, just to clarify, if you're experiencing pain on the exterior of your lady organs, it's actually not vaginal pain; it's your vulva that hurts. The vagina is the "tube" that connects the vulva to the uterus. The vulva includes all the exterior parts, like the pubis, the labia lips, the clitoris, and your urethra.
But make no mistake, vulvar pain is very real, and it's also much more common than you might think, considering how little it's spoken about. While the reason behind the pain can sometimes be as simple as sitting too long or being irritated by the fabric of your underwear, it can also be symptomatic of a variety of conditions, not the least of which is vulvodynia.
Vulvodynia refers to constant, chronic pain in the vulva or vaginal exterior. The cause of vulvodynia isn't really known, and it's often misdiagnosed. It's believed somewhere between three and 15 percent of women experience chronic vulva pain at some point in their lives.
Elite Daily spoke with Dr. Maria Sophocles, an OB-GYN at Princeton University, who sheds some light on the condition and explains some of the realities of living day-to-day with vulvodynia.