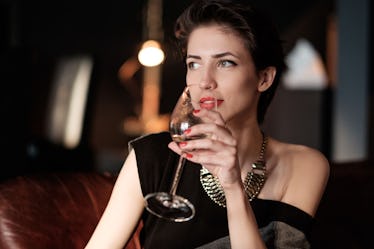 4 Women Reveal How Thanksgiving Led To The End Of Their Relationship
If you've never heard the phrase "turkey drop" you might think it refers to dropping the turkey as you take it out of the oven or en route to the dinner table. But no — it doesn't refer to a culinary catastrophe, but rather to a relationship disaster. Being "turkey dropped" is being dumped on or around Thanksgiving, and it's actually fairly common. If you're wondering why people break up after Thanksgiving, consider that the holidays can be stressful times for people in terms of traveling and scheduling, people are interacting with their families and therefore subjected to a lot of external opinions, and people might also experience a focusing of priorities towards the end of the year.
Although we just made it through cuffing season, and common sense might indicate that you'd want your cuff around for holiday parties, gift exchanging, and bodily warmth, holiday breakups are a common experience. If your relationship has been strained, the pressure of the holidays can cause tension to snap, or you might also realize that you'd rather spend Thanksgiving with your family and friends instead of your partner. This realization could spell the end of your relationship, but of course — every breakup is a different, sad snowflake. I reached out to real women and asked them to share their Thanksgiving breakup experiences, so pass the pumpkin pie and read on.