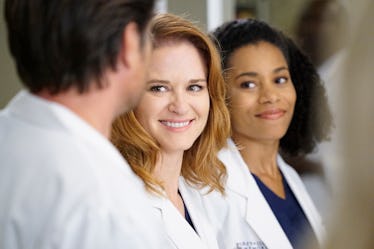 Sara Drew Detailed The Emotional Day She Found Out She Was Leaving 'Grey's Anatomy'
ABC
When Grey's Anatomy returns to ABC this fall, it will be missing one of its most beloved characters. April Kepner, played by Sara Drew, arrived in Season 6 as one of the most annoying people to work at Seattle Grace. But over the course of her eight seasons on the show, she became one of the most-liked characters in the series. Drew also got turns behind the camera, directing the short form series B-Team, which earned her an Emmy this year. With so many opportunities, why did Sara Drew leave Grey's Anatomy?
She'll be the first to tell you, it wasn't her decision. When fans demanded answered this past spring, she tweeted directly she was leaving because she was asked to.
Now with an Emmy nomination two months after her departure, it's a little bittersweet finale for Drew as she watches the show head into Season 15 without her. Talking to The Hollywood Reporter about it, she said it helped her make peace with leaving the show.
My confidence had gotten a bit shaken in the wake of being let go and the nomination after the fact made me go, 'I don't need to be worried about anything or have my confidence shaken.'
For Drew, finding out her character was being written out was a very emotional day.
I was let go during an episode where I was shadowing Kevin McKidd [who stars as Owen and regularly directs episodes]. It was in the afternoon and I went back to my trailer and I did my crying and called my people. A whole bunch of people came into my trailer to give me hugs and cry with me and tell me they were so sad I was leaving. I was supposed to be shadowing Kevin this whole episode with the hope that I would get to direct an episode of Grey's but [after being let go] it seemed like wasn't a possibility anymore.
But after thinking about it, Drew released rejecting one opportunity because of what was happening elsewhere was the wrong move.
I had this incredible opportunity to grow as a director and as an artist with a director that I respect so much. I had nothing to be ashamed of and didn't need to hide. So that's what I did: I showed up the next morning at 6 a.m. and shadowed Kevin until I got cast as Cagney and had to leave to go shoot CBS' Cagney and Lacey.
Sadly, CBS passed on picking up Cagney and Lacey for the fall season, but Drew isn't deterred.
It feels right and it feels like a good time to move onto something else with all the great love in my heart that I have for everybody and respect and gratitude for what that experience was.
The Emmys air on Sept. 17, at 8 p.m. ET on NBC. Drew's nomination for the Short Form Series category will be part of the Creative Arts Emmys held on Sept 8 and 9, which will air on FXX on Sept. 15.