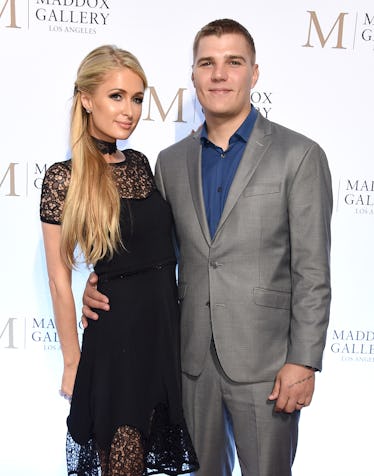 The Reason Paris Hilton & Chris Zylka Broke Up Is So, So Bittersweet
Gregg DeGuire/Getty Images Entertainment/Getty Images
Aw, man. I hate it when people breakup, and I really hate it when celebrities break up. Paris Hilton and Chris Zylka were caught up in the Great Celebrity Engagement Movement of 2018 and seemed to be well on their way to happily-married bliss. Zylka gave her an incredible rock on a ski slope in Aspen, and their engagement photos and videos were so, so sweet. Then, right when I stopped paying attention, something must have shifted. On Nov. 19, reports broke claiming Hilton and Zylka broke up, which gave me celebrity engagement whiplash (again). Of course, people are asking — why did Paris Hilton and Chris Zylka break up? Paris Hilton's public comments about their split are very bittersweet.
On Wednesday, Nov. 28, Hilton appeared on CBS' The Talk, where she spoke candidly about her breakup. She told hosts Sheryl Underwood, Sharon Osbourne, Eve, and Sara Gilbert she's actually doing "really good" despite the split. For those who might still associate Hilton with her The Simple Life days, you might be surprised to see she's all grown up, clear headed, and handling a complicated situation with a lot of grace and maturity.
According to Hilton, her nearly two-year relationship with Zylka was an exciting whirlwind that ultimately led her to an engagement she later realized she wasn't ready for. Hilton explained, "When I fall in love, I fall in love fast and hard, and it was this whirlwind romance." She, like many of us, had an idea of what falling in love would be like and had hoped her own story would be like a classic fairytale. Alas, that was not the case.
"I've always been obsessed with Disney stories and love stories and I thought it was going to be my happy ending, and I just realized after time it wasn't the right decision," said Hilton. Still, she doesn't seem to harbor any resentment or anger towards Zylka. She stated: "I wish him the best, and one day I would love to get married and have children, but for right now I'm just focused on myself and my work."
Very wise, right?
Prior to Hilton's interview with CBS, a source told Just Jared the DJ and actor actually called off their engagement in early November, a few weeks before the news went public. "They broke up and called off their engagement earlier this month," said the insider. "Their relationship started to become off-kilter after about two years together."
Based on Hilton's comments and the source's insider details, it sounds like the plan really is for both Hilton and Zylka to focus on their individual careers. Hilton calls it "me time," and the source told Just Jared, "Paris will be focusing on her brand like DJ-ing and fragrances while Chris will get back into acting and art, like his gallery pop-ups with Banksy during Art Basel."
Hilton and Zylka's engagement photos have since been taken down from her Instagram account, but I don't think I'll forget that $2 million ring for a long time.