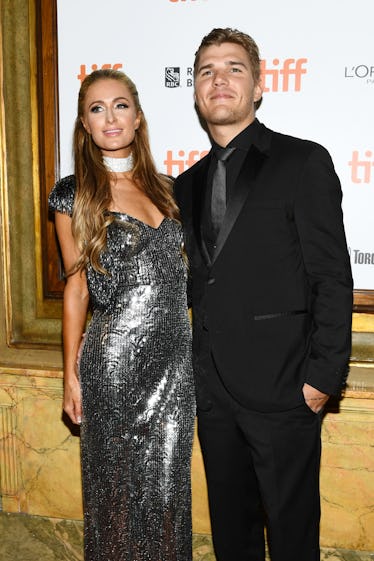 Chris Zylka Reportedly Wants Paris Hilton To Return Her $2 Million Engagement Ring
Emma McIntyre/Getty Images Entertainment/Getty Images
Are you guys ready for the surprise of the year? Make sure you're sitting down for this one. OK, deep breath. Paris Hilton and Chris Zylka have reportedly ended their engagement. Are you in disbelief right now? And, with any broken off celebrity engagement, the big question revolves around the big piece of bling that used to sit on a particular ring finger — you know what I'm talking about. So, did Paris Hilton return her engagement ring? Considering the rock costs a whopping $2 million, many fans are wondering whether or not she gave it back to her ex-fiancé.
Well, according to TMZ, Hilton hasn't given Zylka the ring back, which for some reason isn't exactly a shocker. The site notes that Zylka hasn't asked for the ring back yet, as they haven't seen each other since their breakup. But let's be real: I can't imagine anyone simply letting a $2 million piece of jewelry just simply float away from them without putting up a fight. Elite Daily reached out to Hilton and Zylka's teams for comment on this report, but did not hear back by the time of publication.
Paris Hilton and Chris Zylka reportedly called it quits after a 10-month engagement and two years of dating. According to Entertainment Tonight, the couple officially ended things back in November 2018. Elite Daily reached out to Zylka and Hilton's team for comment on the breakup, but did not hear back by the time of publication.
A source close to the situation revealed exclusively to Just Jared that their relationship started to go downhill, which led to their called-off engagement.
"They broke up and called off their engagement earlier this month," the source revealed, adding, "Their relationship started to become off-kilter after about two years together."
It doesn't seem like our girl Paris is too heartbroken, though, after taking to Instagram to post a picture of herself looking like Marilyn Monroe and sharing one of her favorite quotes by the late actress. She wrote,
My favorite Marilyn Monroe quote. ✨"I believe that everything happens for a reason. People change so that you can learn to let go. Things go wrong so that you appreciate them when they're right. You believe lies so you eventually learn to trust no one but yourself. And sometimes good things fall apart so better things can fall together."✨
But she might be singing a different tune if she has to fork over that little (read: massive) 20-carat diamond to her ex. Sources told TMZ that Zylka bought the ring at a discount, since the jeweler who created the ring has a close relationship with Paris Hilton, and knew that having her flaunt the ring around town is pretty great publicity.
If you've yet to witness the glistening diamond on Paris' finger, then you can check out pictures of the massive rock over at People.
Mhm. Now you see why both parties would like to keep that sparkly fortune.
If you prefer to look back on the good times, back when the ring was rightfully Hilton's, then perhaps you'd like to remember back when Zylka first proposed back in January 2018. Hilton took to Instagram to share the news of her engagement in a now-deleted Instagram post. She wrote,
I said Yas! 👰🏼💅🏼💍💎 So happy & excited to be engaged to the love of my life. My best friend & soulmate. Perfect for me in every way. So dedicated, loyal, loving & kindhearted. I feel like the luckiest girl in the world! You are my dream come true! Thank you for showing me that fairytales do exist.😍
It's a bummer that their love didn't last, but I have a feeling that Paris Hilton is going to be A-OK, with or without her absurdly large engagement ring.
Just a hunch!