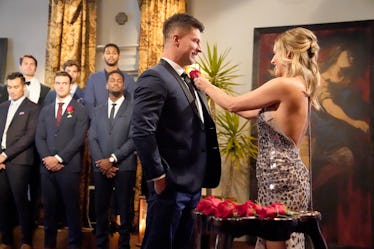 We Need To Talk About What Happened With Clare & Zach J. On 'The Bachelorette'
ABC/Craig Sjodin
There are some dates that go on to live in Bachelor Nation infamy. In Season 16, Episode 3, fans witnessed a cringe-worthy moment that was so bad, it led to a mid-date elimination. But for those who are confused about why Clare abruptly eliminated Zach J. from The Bachelorette, let's break it down.
In Week 3 of Clare Crawley's season of The Bachelorette, she decided to invite Zach Jackson on a one-on-one date. They got to have a spa day together, which sounds like it would be really relaxing. But somehow, this day of zen was filled with stress.
First, Clare and Zach settled in for pedicures. Zach told Clare he had never had a pedicure before and was a bit apprehensive about it. Clare picked up on his nervous energy, and she privately told cameras that he was stressing her out. Still, Clare tried to help Zach relax a bit more with a face mask. But Zach continued to struggle.
It didn't help the cringe factor for those watching at home that Clare admitted to cameras that she'd rather be spending her time with Dale Moss. She said that Dale had set the bar pretty high, which made it hard for her to connect with anyone else, especially Zach during their date. She admitted that maybe they weren't on the same wavelength, which definitely proved to be true later in the date.
When Clare and Zach were about to part ways to get ready for the dinner portion of their one-on-one, Clare leaned in to kiss Zach goodbye. However, she thought Zach pulled away from her, and then it got really awkward.
In an effort to try to fix the situation and still get his kiss, Zach grabbed Clare, attempting to pull her back in. But by that point, the moment had passed and Clare simply wanted to go inside. Still, Zach continued trying to grab and kiss her.
Viewers at home had mixed feelings about the interaction, with some calling out Zach for red-flag behavior and others not understanding what exactly went down.
Zach definitely fell into the latter came. "I mean, there was a misunderstanding there, and I don't know how that possibly happened," he said. "She leaned in for a kiss, she thought I was pulling away and I absolutely was not. I had a great day with her, and then that one little hiccup. Yeah, I thought we were in a solid spot."
But it's Clare's feelings that matter most in this situation. "I go in for the kiss to Zach, he pulls away, and the second I just tried to walk away, he grabs me. That kind of triggers me, and kind of scared me," she said to cameras after their encounter. "I didn't want to be near him in that moment. If I want to walk away because I'm uncomfortable, let me walk away."
Clare has been open about her experience with an abusive relationship in the past. While she acknowledged her past situation is different from what happened with Zach, she said it wasn't something she wanted to deal with in that moment. "I might be a little extra sensitive about it because I've done all the work these last few years on healing my traumas," she explained. "But I don't want to figure it out, I don't want to talk about it. This is not something that needs to be discussed."
That night, Zach showed up for the dinner portion of their date, but Clare did not. Instead, Chris Harrison arrived to let Zach know his time on The Bachelorette was over.
Season 16 of The Bachelorette continues on Thursday, Nov. 5, at 8 p.m. ET on ABC.