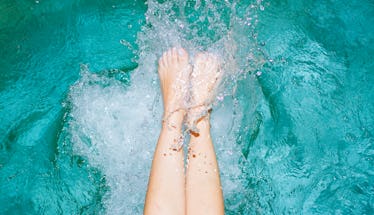 If You're Having Trouble Getting Wet Before Sex, It Could Be For These 4 Reasons
Living in a social climate that is just now opening up to issues affecting female sexuality at a snail's pace can make the prospect of having open and honest conversations feel super intimidating. It's all too often that we instead choose to suffer in silence because of the frequent judgement associated with sensitive female-oriented topics by both our peers, and sometimes even by medical professionals. If having trouble getting wet before sex is something that you're dealing with, then rest assured you are definitely not alone.
By this point, most of us know that female sexual organs are a bit more complex than those of our male counterparts. And thanks to a truck-load of different, equally annoying reasons, female pleasure has taken the back seat for far too long. But finally, there seems to be a moment of female sexual enlightenment taking place that's making information on topics that were once only whispered about with your closest friend more readily available to the masses.
Struggling to get lubricated before sex can significantly detract from the pleasure that everyone deserves to experience during intimacy, but it's most likely something that can be addressed depending on what the root cause is. Elite Daily spoke with Dr. Lakeisha Richardson, OBGYN, MD, to understand the most common causes of vaginal dryness and how to handle them.