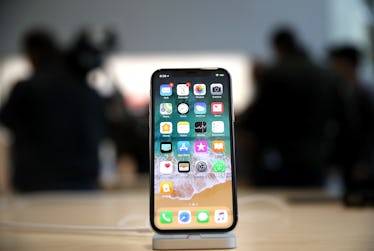 This iPhone X Glitch Will Make You Glad You Didn't Upgrade Yet
Justin Sullivan/Getty Images News/Getty Images
There's no greater frustration than finding out your phone has unexplainable errors. Recently, iPhone X owners have met this fate, faced with a bug that prevents them from answering incoming calls. If you're one of the people who have been wondering why you can't answer calls on your iPhone X, don't fret. Your phone isn't broken; there's just a glitch, apparently.
On Feb. 4 The Financial Times published several complaints left by iPhone X users on Apple's support pages that detail their issues when receiving incoming calls. A rep for Apple confirmed to Elite Daily that Apple is looking into these reports.
One owner wrote that whenever they receive an incoming call, the ringtone plays, but the caller ID doesn't show up until 6 to 8 seconds later. They added that once they restarted the device, the problem went away, however, after 15 to 20 calls, the problem comes back. Even hard resets can't fix the error, according to the owner.
Another user described a similar issue, stating they'd had the problem since the day they bought their iPhone X, according to CNBC. The owner wrote,
I have been facing this problem from the day I bought my new iPhone X. Every time someone calls the phone rings but the display appears after 3 ringtones. Obviously it's a software issue, [I] updated it to 11.2 [and] still faced the same issue. When you restart, the issue goes away but comes back after a day or two. Now after updating it to 11.2.5 I am still facing this issue. Although now the display appears after two ringtones.
According to CNBC, Apple is looking into the issue.
There are long-standing issues with the iPhone X.
The iPhone X has gotten tons of criticism for things like its ugly (to some!) layout, removal of the home button, and flaws with its face recognition feature, which contributed led to the recent discontinuation rumors of the X.
On Friday, Jan. 19, Apple analyst Ming-Chi Kuo of KGI Securities reportedly predicted the iPhone X would be discontinued after its second-generation device releases later this year, according to MacRumors. Apparently, the move would happen before summer 2018 — just a year after the X was released. In addition to the updates users don't like, reports state that selling the X for less than the new generation, like Apple's usual tradition, would cut into sales of other models, so it'd be best to ax it altogether. Kuo wrote, according to MacRumors,
iPhone X would hurt product brand value & lineup of 2H18 new models if it continues to sell at a lower price after 2H18 new models launch ... to sell iPhone X at a lower price may have a negative impact on shipments of the new 6.1" LCD iPhone in 2H18. Thus, we estimate iPhone X will reach end-of-life (EOL) around the middle of 2018.
The rumored discontinuation is completely shocking considering the iPhone X was supposed to be the "future."
Just months ago, in a press release from Sept. 12, 2017, Philip Schiller, Apple's senior vice president of Worldwide Marketing, said the iPhone X was the "beginning of the next 10 years for iPhone." He said,
iPhone X is the future of the smartphone. It is packed with incredible new technologies, like the innovative TrueDepth camera system, beautiful Super Retina display and super fast A11 Bionic chip with neural engine. iPhone X enables fluid new user experiences — from unlocking your iPhone with Face ID, to playing immersive AR games, to sharing Animoji in Messages — it is the beginning of the next 10 years for iPhone.
That said, it really sucks to see another problem with the device underway. However, the good news is that, in 2018, you can totally get away with sending a text in response those glitch-y incoming calls and act like nothing ever happened.