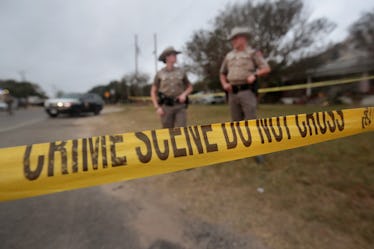 This Is Why Congress Is Stuck On Gun Control, & It's Infuriating
Scott Olson/Getty Images News/Getty Images
After a gunman opened fire in a Sutherland Springs, Texas church on Sunday, Nov. 5, killing 26 and injuring dozens of others, a familiar pattern in American politics reemerged. A tragic event prompts a conversation on gun control, with prominent members of one major party calling for more it, while their counterparts insist a lack of gun laws isn't the problem. A stalemate ensues, and those in favor of new gun legislation question, again, why Congress can't change gun control laws.
On Monday, Democratic senator Chris Murphy provided his own answer to that question in a statement that addressed the shooting in Sutherland Springs. Before getting elected to the Senate in 2013, Murphy represented the district where the 2012 mass shooting at Sandy Hook Elementary School in Connecticut took place. The senator has been outspoken about gun violence before — during an interview with Elite Daily in July, he warned about the pace of 2017 mass shootings — but the tone of his message heightened after the attack in Sutherland Springs.
In a statement reaction to Sunday's shooting, Sen. Murphy said that the "impotent helplessness that washes over you as news of another mass slaughter scrolls across the television screen" is really just "a fiction created and methodically cultivated by the gun lobby, designed to assure that no laws are passed to make America safer, because those laws would cut into their profits."
Murphy's Republican colleagues in the Senate would surely argue against the idea that their overwhelming lack of support for new gun legislation is simply down to protecting the gun lobby's profits, but the senator from Connecticut is right about one thing. Congress has indeed done nothing legislatively in response to the greatest mass shooting in modern American history — the Oct. 1 attack in Las Vegas, which killed over 50 people and injured over 500 others — nor has there been a signal in the House or Senate that any serious push for new gun laws will be made in response to the attack in Sutherland Springs.
Despite the inaction, Sen. Murphy is still pushing for more laws. During a speech on the Senate floor on Tuesday, he told colleagues,
Let's work together to make sure that automatic weapons can't be in the hands of civilians. Let's make real the very simple premise that seriously mentally ill people shouldn't be able to buy guns. Let's fix the background check system so that as Republicans tell us over and over again, at least we can enforce existing law.
Murphy's push comes despite the fact that (as his Sutherland Springs statement hinted) the prospects for successful gun legislation depends on Republicans' appetite for reform.
The mere political reality is that appetite is low. It's that same reality that keeps other Democrats from making more pushes for tougher gun laws, one congressional aide tells Elite Daily.
For now, the most realistic prospect for new gun legislation is a ban on bump stocks, which became a political talking point in the aftermath of the shooting in Las Vegas. A bump stock is an attachment that modifies a firearm, effectively enabling it to fire at a more rapid pace. Twelve such devices were found in the hotel room from which the Las Vegas shooter fired at concert goers at a country music festival.
Last week, a bill that would ban bump stocks was unveiled via a joint effort by two Democrats and two Republicans in the House.
"We're just trying with both sides of the aisle to just get something done. It comes down to 'you can't let the perfect get in the way of the good' right now," the aide tells Elite Daily. "Because maybe if we get the regulatory framework for bump stocks in law, the next time a guy tries buying 12 — maybe more — bump stocks, maybe some red flags will go up."
But even without aiming for the perfect, "the good" — as the aide put it — still seems difficult to accomplish.
Bills that are meant to result in gun laws are typically discussed within either the Senate or House Judiciary Committee, before it can really be discussed before the whole of Congress. Despite the fact that a proposed bill that would ban bump stocks does exist, though, that proposal has not been brought up by consideration before the House Judiciary Committee.
The same is true for the Senate Judiciary Committee, despite the fact that the highest ranking Democrat on the committee, Senator Dianne Feinstein (CA) introduced her own bill to ban bump stocks.
When reached for comment on whether the committee's chairman, Senator Chuck Grassley (R-IA), would consider the bill in the near future, a spokesperson for the senator did not respond.
The attack in Texas appears unlikely to alter this state of inaction, too.
Even in 2013, gun legislation failed to pass with a Democratic Senate and a Democratic president, Barack Obama. Now, in 2017, the sitting Republican president has already decided that Sutherland Springs is "not a gun issue."
Simply put, the current state of politics — the stances the majority of politicians take on gun control — make it near impossible to pass gun reform. That probably won't change until something else does, which Obama hinted at two years ago, in a statement given after the Emanuel AME Church shooting in Charleston, South Carolina.
"It is in our power to do something about it," Obama said. "I say that recognizing the politics in this town foreclose a lot of those avenues right now. But it would be wrong for us not to acknowledge it."
The former president then alluded to voters' attitude towards the issue of gun control. "At some point, it's going to be important for the American people to come to grips with it, and for us to be able to shift how we think about the issue of gun violence collectively," Obama said.
In other words, until there's a massive shift in terms of how much of a priority gun reform is for voters, the same political pattern — with more arguments, but a lack of actual legislation — is likely to repeat itself.
If you want to voice your opinion on gun legislation, you can find the contact information for your elected representative in Congress here. You can also call the Capitol switchboard to be connected with your representative in Congress at 202-224-3121.