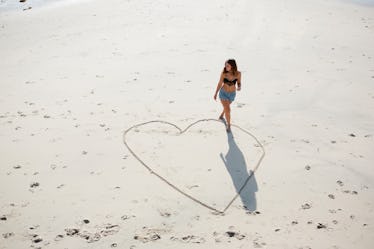 Your Zodiac Sign Reveals Why You're Single Right Now & It's So Scarily Accurate
Once after at least four margaritas, I imagined an album title for my love life with my friends. I decided it would be called This Is Why I'm Single, and it's title track "This Is Why I'm Single" would be a parody of MIMS' 2007 hit "This Is Why I'm Hot." (Tequila is fun!) The second track would be called "Sausage Fingers" (my fingers are weirdly stubby). It may sound dramatic (and drunk) but I'm a Scorpio, so of course I'm going to be dramatic when it comes to answering the question, "Why am I single?"
Now that I've proven my November 11th birth date by being sufficiently moody and self-deprecating, I'm going to do the feminist thing I love to do and remind you that there is nothing wrong with being single. Absolutely nothing. You might be eye-rolling me because you've heard this before, but there is nothing wrong with being single. In fact, there are a lot of things that are right with being single. Men are celebrated for their bachelor status, and women should be celebrated for not putting a ring on it. OK, rant over.
When it comes to the reason (or reasons) you're single — whether you want to be or not — your zodiac sign may be a lot more telling than you realize. Here are some possible explanations for your current solo status based on when you were born.