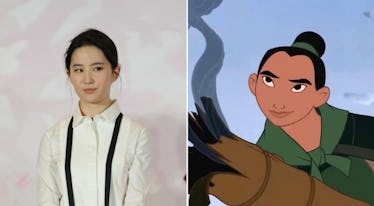 Disney Finally Announced Who Will Play Mulan In The Live-Action Remake
Getty Images/Disney
Ladies and gentlemen, we officially have our Mulan! After a yearlong, worldwide search for an actress to portray the iconic lead role in the upcoming live-action remake of Mulan, Disney has finally made its choice. Chinese actress Liu Yifei will pick up the sword to play one of Disney's most badass "princesses" in the highly anticipated remake, as reported by the Hollywood Reporter, and you should be pumped because Yifei seems like the perfect choice. Here's what you need to know about our Liu Yifei, our live-action Mulan.
For one thing, Liu Yifei is already a super popular actress and model in China, and has proven herself in some major kung fu movies before now. Though most of her movies are in Chinese, she does speak English fluently thanks to spending part of her childhood in New York, and has nabbed major parts in English-speaking movies such as 2008's The Forbidden Kingdom alongside Jackie Chan and Jet Li, and 2014's Outcast with Nicolas Cage. She is also widely known in China for her good looks, becoming one of the country's most popular models and earning the media nickname "Fairy Sister."
Liu Yifei is also a pop singer, who's released two albums and recorded songs for the soundtracks of several of the films she's been in. While this sounds like it would be a huge help in her casting as Mulan since the original 1998 animated movie featured several iconic songs, we probably won't be hearing her singing voice at all in the upcoming remake. Back in March, the director of the live-action Mulan, Niki Caro, revealed that she is not planning on including any of the original songs in her adaptation. So even though Liu Yifei definitely has the voice for it, it sounds like we won't be hearing her rendition of "Reflection."
Liu Yifei's casting comes at the end of an extensive worldwide search by Disney for its Mulan star. Casting directors began their search in the fall of 2016, reportedly visiting five continents in order to track down the perfect actress for the part. Though they travelled the globe to find their lead, the studio reportedly did focus their search on ethnically Chinese young women in order to keep the casting culturally accurate to the film. It sounds like a very similar process to the one that Disney underwent to cast its lead in the live-action Aladdin, which also went to an actor relatively unknown to American audiences, Mena Massoud, after a long worldwide search.
This is the first bit of casting news to come from the live-action Mulan. I think we can all rest assured that Yifei will make an excellent Mulan, and now fans are waiting to see which actors will fill out the rest of the beloved main roles in the movie, including the wise-cracking dragon Mushu (originally voiced by Eddie Murphy) and Mulan's military captain and love interest Li Shang (originally voiced by B. D. Wong). I have a sneaking suspicion that Mulan may decide to cast a really big A-lister for the part of Mushu, just going off how they cast Will Smith as Aladdin's scene-stealing comic relief character. There hasn't really been any talk of that yet, though, so we will have to just wait to see how the cast fills out.
The only bad news is that we are going to have to wait a long time before we actually get to see the live-action Mulan on the big screen. The movie was originally scheduled to come out towards the end of 2018, but recently got pushed back to sometime in 2019.