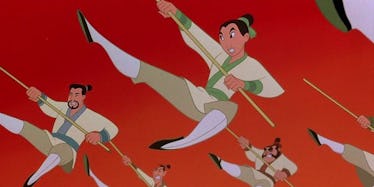 Disney's Live-Action 'Mulan' May Not Have Songs And Fans Are Losing It
Disney
It sounds like the new "Mulan" movie isn't exactly going to be as swift as the coursing river, if you catch my drift.
To the dismay of Disney fans everywhere, the "Mulan" director just said the upcoming live-action remake might not include any songs!
HOW will a song-less "Mulan" bring honor to us all!? How will it make a man out of us?! HOW WILL ITS REFLECTION SHOW US WHO WE ARE INSIDE?!
Obviously I'm freaking out about this (as anyone with a heart SHOULD be), but there's still a speck of hope this new movie won't completely do away with the iconic songs that Disney fans love.
The director, Niki Caro, has only said, in the interview with Moviefone, there are no songs right now.
Yes, from what I understand, no songs right now, much to the horror of my children.
But that "right now" qualifier doesn't really give me any ease, because I mean... it's not like they're creating new songs or anything. They're already there. The question is whether they're going to be included or not, and Caro's response sure makes it sound like they won't be.
Of course, this announcement is not being well received by Disney fans online. Tons of fans of the original "Mulan" and its beloved songs voiced their anger and disappointment on Twitter.
One important person who is actually in favor of this song-less remake is the woman who sang all of those iconic songs in the first place. Lea Salonga, the voice actress behind the original "Mulan," tweeted out her support for the possible decision, saying the story doesn't need music to be powerful.
The original legend of Mulan existed for over 1,000 years without the music. The new film will stand proud and tall without the songs.
Salonga said the only thing she actually wants to see in the film is an androgynous Asian actress in the lead role and a hot guy playing the male lead, Shang.
Well... unfortunately for Salonga and the rest of us "Mulan" fans, the songs might not be the only things from the original that are getting the boot. Shortly after news of the remake broke, we found out the script reportedly leaves out Shang.
Of course, nothing is final yet — the live-action movie still has a year and a half before it's scheduled to be released in November of 2018 — but I can't help but be a little scared about the prospect of no songs and no Shang.
Well, at least I know what I'm listening to for the rest of the day.
Citations: Exclusive: 'Mulan' Director Niki Caro Says No Songs in the Upcoming Remake (Moviefone)