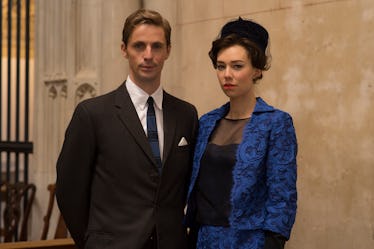 'The Crown' Season 3 Has Its Antony Armstrong-Jones & He's The Perfect Fit
Netflix
Anyone who loves their British period dramas knows that Matthew Goode is perfect to play men who appear late in the game and woo a lady previously unlucky in love. He played the suave motorist who became Lady Mary's second husband on Downton Abbey, and he won over another fandom when he had a sexy debut in Season 2 of The Crown as Princess Margaret's eventual husband Antony Armstrong-Jones. Like his co-stars, Goode isn't returning for future episodes of The Crown, but we finally know which debonair gentleman will replace him in the Netflix drama's next season. So, who's playing Antony Armstrong-Jones on The Crown Season 3?
Netflix announced via The Crown's Twitter account that actor Ben Daniels will appear as Antony, whose royal title was Lord Snowdon, in the third season. My inner Anglophile is still a little crushed about Goode no longer being on my screen, but Daniels definitely passes as a believable older version of Goode's Antony. A statement about Daniels' involvement read:
After being glued to the first two seasons of The Crown, I am beyond thrilled to be joining the cast of this incredible piece of television. Snowdon was such a dynamic and complex man. I'm really looking forward to playing him.
You may not recognize Daniels right away, but a skim through his IMDb page proves that he has major acting credentials. He most recently appeared in NBC's Jesus Christ Superstar Live in Concert as Pontius Pilate this past Easter, and he managed to play his part in one of the greatest film franchises ever by appearing as General Merrick in Rogue One: A Star Wars Story. While the majority of his TV roles are in British shows, including Law & Order: UK, he also appeared in seven episodes of House of Cards as Claire Underwood's old lover Adam Galloway. All of that hard work has definitely paid off now.
Daniels celebrated the casting news on Twitter, revealing that the role has been his for quite some time. Do you think Netflix is keeping any other casting announcements secret for now?
Daniels will appear alongside Helena Bonham Carter as Antony's wife Margaret, but they probably won't have as seductively romantic scenes as Goode and Vanessa Kirby had together in Season 2. Although the previous season ended with the couple welcoming their second child, their marriage began to collapse as the 1960s continued. Antony and Margaret were officially divorced by 1978, and while it's unclear if Season 3 will run until the late '70s, the two's explosive demise and 1976 separation will likely be covered.
According to The Hollywood Reporter, Season 3 will begin in 1964 and cover Prime Minister Harold Wilson's two terms in office. Production executive Suzanne Mackie also confirmed to Deadline that the season will address the beginning of Beatlemania and England's 1966 victory in the soccer World Cup. If a brief time jump between Seasons 3 and 4 happens, perhaps we won't even see the Snowdons' actual divorce and Antony will no longer be necessary on the show. After all, producers have pegged Season 4 as Diana Spencer's grand entrance, so we don't exactly need a bitter divorcee storyline once the future Princess of Wales finally appears.
However, if Season 3 of The Crown is meant to be the only one for Daniels, it sounds like he'll have very juicy material to work with. Robert Lacey, The Crown's history consultant, told Town & Country about the upcoming episodes:
We're now writing Season 3. And in Season 3, without giving anything away—it's on the record, it's history—we'll see the breakup of this extraordinary marriage between Margaret and Snowdon. This season, you see how it starts, and what a strange character, a brilliant character Snowdon was.
If the hypnotizing "Beryl" episode in Season 2 is anything to go by, discovering more about Antony will certainly make for an interesting Season 3 of The Crown.