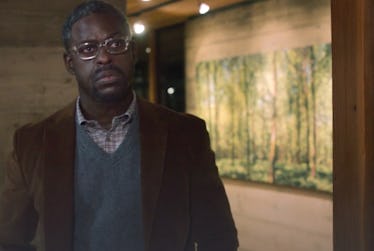 We Need To Talk About What The Latest 'This Is Us' Flash-Forward Could Mean
NBC
This Is Us has been stingy in rolling out the flash-forwards — and for good reason. Even before 2020 reminded viewers no one knows what the future will bring, attempting to portray this on TV was difficult. Plus, old-age makeup is no small feat and expensive to do correctly. (Never forget, Netflix's The Crown recast its stars *twice* rather than attempt it.) But with Season 5, Episode 9, fans were once again treated to a trip to 2034. However, the short scene left a big cliffhanger. So: Who's in the car in the This Is Us flash-forward? Let's run down the possibilities.
One somewhat far-fetched idea is the father Deja's unborn child is in the car. (This is based on Randall's saying, "Look who it is," as it pulls in.) That's a nice sentiment, but the truth is the show gave fans almost nothing to go on when it comes to Deja's future. She's a med student, she's pregnant, and she's not telling people yet. (It's not even clear if Randall knows.) There's a male student she's friends with who covers for her when Annie picks her up, but that's not much of a hint.
As much as it would be nice to have a romantic situation in which the Pearsons all learn Deja's baby (the first member of the next Pearson generation) is on its way, that probably isn't it. The last car to pull up likely isn't going to be part of Deja's story. It's almost definitely the final piece of the Pearson clan that hasn't arrived yet: Kate's section of the family.
But who exactly is in the car? The show ended before fans could see who got out. Here are a few candidates: