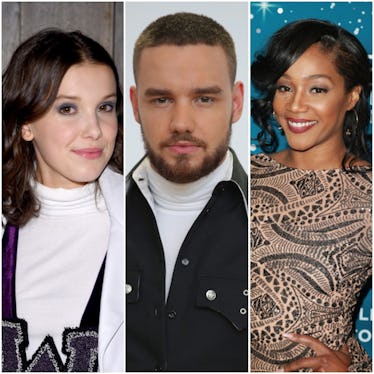 The 2018 MTV VMAs Host Is A Big Mystery This Year, But We Have A Few Suggestions
Jamie McCarthy/Andreas Rentz/Leon Bennett/Getty Images Entertainment/Getty Images
While the MTV VMAs are going all out this year with its performances — we're talking Ariana Grande, Shawn Mendes, Travis Scott, and so many more — let's not forget another important piece of the night: THE HOST, duh! Yes, the VMAs will be coming at you on Monday, August 20, and it's bringing tons of artists, celebs, and music along with it. But who's hosting the 2018 VMAs? Here's what we know so far.
UPDATE: According to an MTV press release, there's no host for the 2018 MTV Video Music Awards.
EARLIER: No announcement has officially been made by MTV regarding who will be hosting the VMA's, so at this time, there's no host that we know of. Elite Daily reached out to MTV for more information, but have not heard back by the time of publication.
While MTV announced last year's VMAs host, Katy Perry, an entire month before the actual event, there's still *technically* a few days for them to make some kind of official announcement for this year — though they're really taking their sweet, sweet time letting the world know if they do have a host.
Or, perhaps, MTV is taking a page out of 2016's book and forgoing a host altogether this year. There was no official host for the 2016 VMAs —although Keegan-Michael Key and Jordan Peele did act as something of a hosting duo, providing commentary throughout the evening as their alter-ego's, The Shamester and Lizard Sheeple.
If you're getting too tied up with trying to figure out who exactly MTV might choose at the last minute (planning to tell us at the last minute is probably more like it), why don't you do yourself a favor and take a break from your investigations?
Instead, let's check out the list of some of the presenters we know will definitely be there, shall we?
According to Entertainment Weekly, there are a handful of star-studded presenters for this year's VMAs who you're going to be stoked to watch narrate the evening.
For starters, we're going to have the Backstreet Boys in the building once more, so all of your '90's dreams will be coming true yet again.
Your favorite boyband aside, Entertainment Weekly notes that "Night School costars Tiffany Haddish and Kevin Hart will be handing out trophies, as will Millie Bobby Brown," so be fully prepared to laugh your ass off, OK? OK.
Other presenters include Bebe Rexha, Blake Lively, DJ Khaled, Lil Uzi Vert, Olivia Munn, Shay Mitchell, and many, many others (I told you it would be filled to the brim with celebs!).
BUT WAIT, THERE'S MORE!
"In addition, Rita Ora, who received two nominations for her collaboration with the late Avicii on "Lonely Together," and Liam Payne, nominated for his "Get Low (Street Video)" with Zedd, are slated to present," according to Entertainment Weekly.
Yes, yes, yesssss.
So instead of waiting on pins and needles for MTV to announce a host (if there is one at all), here are my frontrunners for the event:
Chloë Grace Moretz
She's equal parts cool and hilarious, and would be a kickass (see what I did there?) lady to host this awards show.
Queer Eye's Fab Five
I mean, could you even believe? Not only would they have everyone rolling on the floor with laughter, but they'd also easily be the most well-dressed crew you've ever seen take the stage. Trust.
Meghan Markle
Is having someone who's married to British royalty host the VMAs a stretch? Yes. Do I care? Absolutely not.
Pete Davidson
I mean, his fiancé Ariana Grande is up for several nominations, so this sort of seems like the perfect pairing if you ask me.
Chrissy Teigen
Oh, please. Do I even need a reason?
So there you have it! My very own nominations for the 2018 VMAs host. You're welcome, MTV.