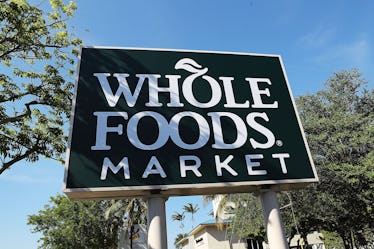 How To Shop Whole Foods' (Naturally) Amazing Beauty Sale Because Yes, There's A Catch
Joe Raedle/Getty Images News/Getty Images
Is your skin starting to flake? Are your strands starting to crackle like straw? Does your complexion look the opposite of dewy and bright? Whole Foods' beauty sale can help you with all of that. From now until November 1, each week will offer 30 percent off on a new category of products, so no matter what hydrating serum or intensive hair mask you might need, you'll be able to get it at a seriously great price. The best part? Whole Foods is dedicated to ensuring all of their beauty offerings are ethical, clean, and contain ingredients that are good for you.
The schedule for the sale is as follows:
Between Oct. 3-9, bath and body care will be 30 percent off. Between Oct. 10-16, hair care will be marked down. Between Oct. 17-23, essential oils, carrier oils, and aromatherapy diffusers will be discounted, and between Oct. 17-23, facial care products will be on sale.
There is, however, one catch when it comes to the sale. You have to be an Amazon Prime member to reap the benefits. (Members can go into any Whole Foods store to get the discount, or use Amazon Prime Now if they prefer to shop from home.) Amazon bought Whole Foods back in 2017, so the stipulation makes sense. Since the acquisition, Prime members have gotten sweet deals like free two-hour grocery delivery and 10 percent off sale items in store. Yep, it definitely pays to go Prime, and I can say that it is totally worth it. As a Prime member you'll get free same-day, one-day, and two-day shipping on Amazon; the ability to stream and download movies, shows, and music; members-only discounts, and more. In short, Prime is worth it. If you need more convincing, check out some of the Whole Foods beauty products that you'd be able to snag at seriously discounted rates below. (Your skin and hair will thank you!)
Uh Huh, Honey
Formulated with a blend of all-natural oils and extracts, these eye masks promise to leave your skin smooth, supple, and dark circle-free.
Love Your Roots
Deep conditioning can do wonders for cold weather hair woes. This one is formulated with silk protein and olive and avocado oils, which will render your hair smoother, shinier, and stronger. Plus, it smells great.
Zit Zapper
This $8 face mask is a favorite of celebrities like Lili Reinhardt for good reason. Made from natural calcium bentonite clay, it kicks acne's a** and will leave your skin less red and less inflamed.
Flower Power
I have SO much love for this product! It smells absolutely amazing and doesn't leave your skin dried out. I've been using it for years and will never go back. It's made with certified organic ingredients, is packaged in recycled bottles, and can also be used to clean counters, dishes, pets, fruits and veggies—you name it. Yes, really.
Peace & Love
Yes, its packaging is adorable, but it also does wonders for the skin! Its ingredients list includes Vitamin C, Vitamin E, ferulic acid, grapefruit, clary sage, chamomile extract, and more, which somehow all come together to create skin food that promotes radiance, health, and and overall glow. Hippie magic!
Mask Aid
A sheet mask? From Whole Foods? Yes, and a good one, at that! Formulated for oily and overactive skin, this mask is made with coconut water electrolytes and willow bark to help leave skin hydrated, plump, and dewy AF.