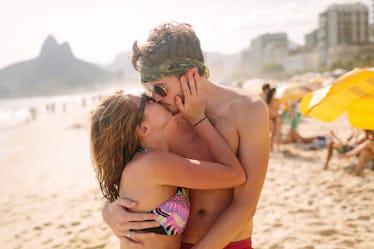 Here's Who Your Spring Break Fling Will Be, According To Your Zodiac Sign
Are your party senses tingling? Did you just shove eight bikinis into a suitcase next to your sunscreen and an economy-sized box of condoms? Do you feel the need to shout "woooooooo!" every five seconds bubbling up inside you? That can only mean one thing: The time of my favorite annual hot mess is nigh. A time when the weather is warm, the bathing suits are small, the mood is definitely... fun. Yep, I am talking about spring break, where you can finally go get some sun, have some fun, oh and have a spring break fling, too, of course. What is spring break after all, without a carefree make-out sesh with a hottie (or three)?
OK, so this is the part where I say one last responsible thing before giving into the all-out hedonism: If you plan on hooking up with anyone on spring break, just make sure that all your hookups are safe. You want to bring home memories, embarrassing photos, and maybe even a shot glass with "one tequila, two tequila, three tequila, floor" written on it. But that's it. So make sure to keep a condom (or several) at the ready.
Back to the question at hand: Who are you gonna hook up with this year? With so many options, it might be hard to pick just one. To help narrow it down, here's who you should be keeping an eye out for during your spring break, according to the stars.