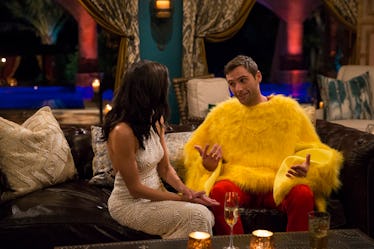 This Contestant Wore A Chicken Suit On 'The Bachelorette' Premiere, Because Of Course
ABC
On The Bachelorette, there's always that one guy who arrives on Night One wearing a ridiculous costume hiding his face, meaning that we go at least two or three weeks saying, "Who's that?" when he pops up on group dates. Season 14's customary costume guy arrived in a chicken suit, clucking to the point of his noises sounding like "Becca." Wearing a costume for your limo exit can be a hit or a miss, but in Chicken Man's case, he removed his animal head long enough to make a great impression on leading lady Becca Kufrin. So, who wore the chicken suit on The Bachelorette? Contestant David managed to pull off the outfit choice gracefully.
A venture capitalist from Denver, 25-year-old David definitely comes across as a basic bro in his official ABC bio, so I get why he wanted to wear a costume and stick out. He arrived at the mansion in full chicken mode, flapping his wings, clucking, and proceeding to make more chicken puns than anyone ever needed to hear in their lifetime. As cheesy as some of his one-liners were, I will give him points for the saying, "I'm not here to ruffle feathers."
I always applaud a Bachelorette when she sits with a costumed man and takes him seriously, and Becca did that with her one-on-one time with David. After all, Becca is always down to do the damn thing, and in this case, that meant doing the chicken dance with David. He also removed his chicken head for a more serious chat with her, which probably helped Becca feel less like she was dancing with a performer at a five-year-old's birthday party.
Becca admitted to cameras that she liked David's energy, and in his own interview, David shared, "Becca is a cool chick." All of these bird puns are just a onetime thing, right? ...Right?
The chicken costume played out well in the end, with David scoring a rose by the end of the night. As for what comes next for him, anything can happen. If you need a refresher on what usually becomes of the costume guy on The Bachelorette, look no further than last season's Matt Munson. Matt dressed up in a penguin suit for Rachel Lindsay's first night as the Bachelorette, and although he was around for quite awhile, fans literally kept forgetting that he was even there. Matt then turned up on Bachelor in Paradise, but proceeded to be fairly unmemorable. To this day, none of us know what to think of his inexplicably emotional goodbye to Rachel — um, what did we miss?
Nick Benvenutti of JoJo Fletcher's season was even less significant after dressing up as Santa Claus (Saint Nick, get it?) in the first episode. Like Matt, he also appeared on Paradise, but it would require a deep Google search for me to remember what happened to him there.
Ultimately, in recent years, those who show up in costume on The Bachelorette don't exactly have the best performance record, but it looks like David may have a stint on Bachelor in Paradise if things don't work out with Becca. We could all use some GIFs of the meme-able Bekah M. reacting to his chicken puns in Paradise, right?
When David's not clucking around (is that punny enough for you?), the New Jersey native enjoys golfing, skiing, and hanging out with his family at their beach house. According to ABC's promo video of him, he even shares a birthday with Becca, so I now expect astrology experts to whip up a chart about the compatibility of two people with the same sign.
Here's hoping that David's chicken suit hits the trash in Episode 2. Season 14 of The Bachelorette returns on Monday, June 4, at 8 p.m. ET on ABC.