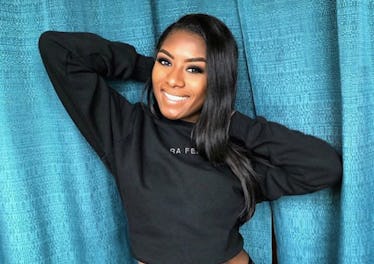 Nia Franklin Is Miss America 2019 Because She Is Seriously Inspiring
Miss America NY on Instagram
Miss America 2.0 aired on Sunday, Sept. 9. This year marked the pageant's first year without the swimsuit category (thank gawd) and included a round of interview questions for each of the women in its place. After a long night of watching the women compete, who won Miss America 2019? Nia Franklin, aka Miss New York, is this year's winner.
Franklin, along with all of the women who competed this year, has a seriously impressive resume and vocal pipes that, no doubt, helped her win. For the talent portion of the competition, Franklin performed a piece from the opera La Boheme (the opera that inspired RENT, in case you didn't know) and the performance was stunning, of course. She has a master's degree in music composition from the North Carolina School of the Arts, so not only can the girl sing, but she can also create every part of a song she writes.
Nia Franklin's Instagram post during the filming of Miss America shows she's a big advocate for music and arts education and dreams of winning a Grammy one day. She said,
Me walking down the red carpet when I get my first Grammy nomination... DREAM BIG ⭐️ Tonight, one of my dreams came true. Walking in a gown on the Miss America stage was the most amazing feeling. I shared my passion for the arts and how I will continue my work of advocating for the arts, so that every child in our country can have access to a well-rounded education. 🎨🎺🎭#advocatingforthearts
Being from New York, Franklin has performed at lots of venues throughout the city and even performed some of her original songs at Lincoln Center earlier this year.
Her love for the arts reflects in her advocacy as well. Franklin's profile on the Miss America website says, "Music has been a major part of my Miss America journey. I composed my first song at age six – 'Love, love, love, love, love, is the only thing that matters to me hey, hey, hey, hey, hey.' My dedication to the arts influenced my educational choices, resulting in my master of music composition degree." Her bio continues, "Although I was a minority in my school, I connected with my peers based on our mutual love of the arts. For the Miss America Organization, I will bring my zeal for music and performance, and be a strong support for arts in education."
She stressed the importance of arts education during the competition as well. "I grew up in a school with only 5 percent minority," she said, "but growing up, I found my love of arts and through music, I felt positive about myself and who I was. That's what I would encourage young girls to do, find who you are."
In her speech after being crowned Miss America, Franklin gave a shoutout to her family and mentioned that her father is a cancer survivor. "I'm feeling really blessed right now," she said. "It took a lot of perseverance to get here, and I just want to thank my beautiful family, my mom and my dad, who's a survivor of cancer." According to Franklin's Instagram, she donated stem cells to her father when he was diagnosed with cancer a few years ago.
Her post revealed that she was a perfect match for a stem cell transplant for her father, who had relapsed with cancer twice at that point. According to her Instagram, the procedure helped save her father's life.
Suffice this all to say that the new Miss America is a hella impressive woman.