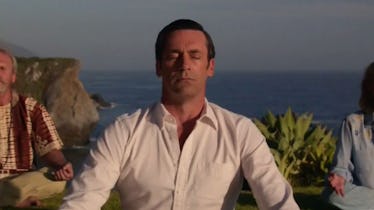 Attention 'Mad Men' Fans: Jon Hamm Set To Star In 'Good Omens'
AMC
Many studios and networks are searching hard for the "next Game of Thrones," but none have been quite so open about it as Amazon Studios. Their honesty so far has been rewarded with behind the scenes gossip of budgets gone wild. But at the same time, no upcoming series has quite the buzz as their adaptation of Neil Gaiman's Good Omens. And now, with the latest casting news of our favorite Mad Men alumni in the project, fans are asking: who will Jon Hamm play in Good Omens?
With Hulu's Emmy sweep last month, Amazon's streaming service is in a precarious position. The prime-membership enabled network had been number 2 behind Netflix, but is now threatening to fall to third place out of three. Picking up the adaptation of the beloved novel by Gaiman and Terry Pratchett seemed a savvy move, especially in the face of STARZ American Gods' buzz last year.
The first casting announcement a couple of weeks ago that Doctor Who's David Tennant and Master of Sex's Michael Sheen would be playing devil's minion Crowley and heaven's angel Aziraphale, respectively, had fans in a tizzy. But the latest addition, Mad Men's Jon Hamm as the world famous Archangel Gabriel, aka God's Right Hand Man, suggests that this could be an heck of an all star cast list by the time the series is done.
According to the BBC press release, Hamm is quite excited to be part of the project:
I read 'Good Omens' almost 20 years ago. I thought it was one of the funniest, coolest books I'd ever read. It was also, obviously, unfilmable. Two months ago Neil sent me the scripts, and I knew I had to be in it.
But more interestingly, Gaiman's explanation of how this has become a major role -- especially since Gabriel's part in the original novel is really small -- that sparked interest.
Once we had finished writing 'Good Omens,' back in the dawn of prehistory, Terry Pratchett and I started plotting a sequel. There would have been a lot of angels in the sequel. When 'Good Omens' was first published and was snapped up for the first time by Hollywood, Terry and I took joy in introducing our angels into the plot of a movie that was never made. So when, almost thirty years later, I started writing 'Good Omens' for TV, one thing I knew was that our angels would have to be in there.
The current order for Good Omens is a single season, and a relatively short one at that, only six episodes. This is normal for BBC shows (the BBC is co producing, and the series will air on BBC 2 in the UK), but not for American ones, or Amazon ones for that matter.
But with Gaiman drawing on work he and the late Terry Pratchett did for an unmade movie to help flesh out the TV series, fans are starting to wonder if the plan is for a second season if this takes off.
As for who Gabriel is:
The leader of these angels is Gabriel. He is everything that Aziraphale isn't: he's tall, good-looking, charismatic and impeccably dressed. We were fortunate that Jon Hamm was available, given that he is already all of these things without even having to act. We were even more fortunate that he's a fan of the books and a remarkable actor.
Fans of Mad Men will quite agree that Jon Hamm is lucky enough to already be all of those things, even before taking his acting skills into account. Will it be such a stretch to see Dick Whitman acting on behalf of all that is right and good and holy in heaven? Or will it simply be Don Draper shedding his skin to let forth his inner light?
Good Omens is slated for a Spring 2019 release on Amazon Prime, with a run on BBC2 to follow.