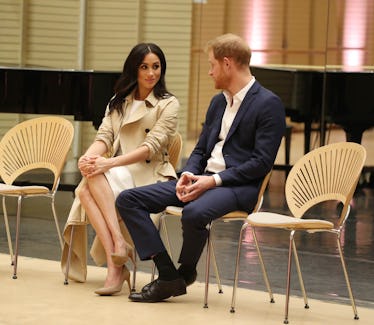 This Ancient Royal Rule Could Mean Meghan & Harry Won't Have Full Custody Of Their Baby
Pool/Getty Images Entertainment/Getty Images
It's no secret there is a ton of royal protocol. Years of historical tradition are heavily documented and still observed today by the Queen and her family. However, there is one weird royal rule that's surfacing thanks to Meghan Markle and Prince Harry's baby announcement. According to historians, the Queen's royal offspring do not have total custody over their own kids. In fact, they share it with the Queen. Strange, right? Apparently, this guideline dates back as far as the early 1700's. So, who will have custody of Meghan and Harry's baby? Well, technically speaking, it's complicated. Elite Daily previously reached out to Kensington Palace regarding this rule but did not hear back by the time of publication.
Look, there's a lot to be said for maintaining tradition. Culture, life lessons, and fantastic family stories are preserved and honored a lot in this way. But, every so often, you bump into things like this weird custody law and think, "Huh. Wait, what?" Back when the Duke and Duchess of Cambridge, Prince William and Kate Middleton, had their third child, Prince Louis, the rule was revisited.
Royal expert Marlene Koenig spoke with Elle magazine explaining, "The sovereign has legal custody of the minor grandchildren. This goes back to King George I, and the law's never been changed."
O... K...
In a nutshell, King George I had a wobbly relationship with his own son, the future King George II. Due to this, King George I wanted to ensure he had a say in what happened with his grandchildren, especially during their own father's lifetime. According to Elle, King George I declared the monarch's "right of supervision extended to his grandchildren and this right of right belongs to His Majesty, King of the Realm, even during their father's lifetime."
For this reason, in case of a divorce, custody is not to be included in royal divorce documents either. This popped up in the case of the Duke and Duchess of Wales, Prince Charles and Princess Diana, who of course co-parented their children, Prince William and Prince Harry, after divorcing in 1996. Koenig explained, "Custody is not included [in those divorce documents] because they did not legally have custody of their children to begin with."
Reportedly, Princess Diana had wishes laid out in her will for her brother and mother to become the legal guardians of Prince Harry and Prince William. However, this was ignored by the Palace, as the "care and control" of the boys was and still is ultimately up to the Queen. Likewise, in the event of the Queen's death (no no no), legal custody of William and Kate's children, Prince George, 5, Princess Charlotte, 3, and Prince Louis, 6 months, as well at Meghan and Harry's baby, would go to Prince Charles. Under these circumstances, that would also make Prince Charles king.
Still, according to Elle, the Queen is "unlikely to step in to dictate how the great-grandchildren are raised."
With a new baby on the way and the already adorable lot running around Kensington Palace, the public has literal years of royal baby happenings to look forward to. Prince Harry and Meghan Markle are reportedly due in Spring 2019.
I can't wait! I'll raise that baby!