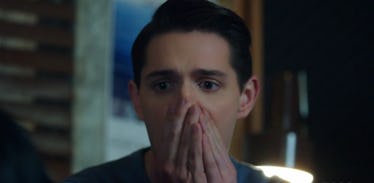 The New Mystery In 'Riverdale' Season 2 Has Fans Seriously Worried
The CW/YouTube
CODE RED, Riverdale fans, there's a new killer on the loose, and this time they are not the president of a prominent maple syrup empire. No, sir-ee! Now that the first episode of Riverdale Season 2 has aired, fans are freaking out because there is a new murderer running around and terrorizing the small town. That's right, judging by Ms. Grundy's murder in the final moments of the episode, Fred Andrews getting shot in the Season 1 finale wasn't an isolated incident and a new Riverdale mystery has begun. Naturally, fans are already wondering: Who will die on Riverdale Season 2?
We've already been told by insiders that Riverdale's sophomore season is set to be darker, more mysterious, and more shocking (if that's even possible) than its predecessor — indeed, Cole Sprouse mentioned earlier this year in an interview with TVLine, "[He] think[s] the whole show is going to be getting darker and stranger" — and we've already seen some of that signature ominousness present in the first episode. In a series that's filled with surprise twists and unexpected turns, one thing is for sure: No one is safe and nothing is off limits in Season 2.
It is somewhat surprising this year opened with a murder since, earlier this year, Riverdale's showrunner, Roberto Aguirre-Sacasa, revealed he was unsure of doing another murder mystery in Season 2 for fear of treading too closely to Season 1's storyline. The EP told Entertainment Weekly in September,
The one thing I was nervous about was doing another murder mystery, because it felt like the Jason thing was done so well that I was nervous about doing one that felt like a pale imitation game of the first one. So we started talking about different genres. Horror is something that has come up, but it feels like it's almost too big for our world.
Clearly his nerves went out the door (or drowned in Sweetwater River), because the first episode of Season 2 is packed with both murder and mystery.
Already, fans are panicking over the idea of a new killer in Riverdale, especially since, unlike Clifford Blossom, this one wears a ski mask and not a toupee.
So far the only ~actual~ victim is Ms. Grundy, but who knows who else this masked maniac might claim in the coming episodes. With the addition of several new characters this season — including Hiram Lodge, Betty's brother, and a new Serpent — it's hard to tell who might die, or who might be the murderer for that matter.
All of this new, twisted drama is to be expected, though. According to Cole Sprouse in an interview with TVLine in May,
[The show is] going to be leaning into a lot of those qualities that a lot of people ended up loving in the first couple of episodes — this heavy cinematography, this overbearing coloration, this really dark content that's kind of over-the-top and campy, but it's taken very seriously.
Obviously Riverdale plans to take what made it so popular during its inaugural season and amplify it, despite Aguirre-Sacasa's nerves. Casey Cott — the actor who plays Kevin on the show — echoes Sprouse's comments in his own interview with Teen Vogue where he says,
Season two is such an interesting progression after season one. We've all probably said the words, 'It's so thrilling and dark and mysterious.' It really gets pretty weird.
All in all, if the first episode of Season 2 is any indication of what's to come, then Cole Sprouse wasn't wrong when he said we'll be getting a lot "darker and stranger."
Check out the entire Gen Why series and other videos on Facebook and the Bustle app across Apple TV, Roku, and Amazon Fire TV.