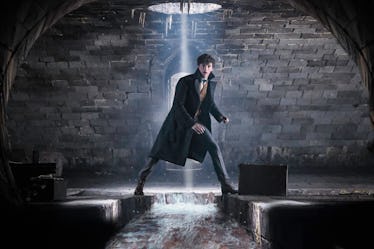 The Actor Playing Young Newt Scamander In The 'Fantastic Beasts' Sequel Is Simply Magical
Warner Brothers
When the Fantastic Beasts and Where To Find Them series revealed Newt Scamander and company would be heading back to the UK and Europe for the second installment, fans were over the moon. It suggested there was a chance to see Hogwarts before Voldemort ever attended. Perhaps viewers would be introduced to new Ministers of Magic and Professors of Herbology. But of course, the real character everyone wanted to see was Young Dumbledore, the Transfigurations professor. What no one knew was they'd meet young Newt Scamander too. Who plays young Newt Scamander in Fantastic Beasts 2?
A photo posted by Entertainment Weekly reveals Fantastic Beasts: The Crimes of Grindelwald will not just be traveling back to the UK and then on to France for the new adventure this fall. It will also be going back in time, where fans will get a look at Newt's years as a student in the Hogwarts classroom. This suggests viewers may even get to see what exactly happened at Hogwarts that caused Scamander to be expelled ultimately.
The teenage version of Newt will be played by Joshua Shea. This is his first significant motion picture role. Before this, his most prominent part was in television where he played Devin for an episode of The Royals on E!.
But there's an exciting thing about the photo of Newt if you look closely. It's highly reminiscent of an image Potter fans have seen before.
Now fans have noticed before Dumbledore classroom is not the one they expected. Despite all accounts claiming he taught Transfiguration before he was headmaster, Dumbledore is standing in the room Potterheads know to be the Defense Against the Dark Arts classroom in the trailer.
Now we have a picture of the youngest Dumbledore fans have seen yet, with a young Newt Scamander, looking to be a Third Year student (or thereabouts). As Harry did with Lupin in his third year, they are standing with the rest of a suspenseful looking class behind them waiting for Newt to cast.... a spell to turn a cat into a teapot? Or a spell to open a cabinet with a boggart inside? Newt's body language alone suggests the latter. But why would the Transfigurations professor be teaching a DADA class?
But this is only one of the mysteries to be solved. Other questions fans are hoping to learn more about are of Newt's formative years at Hogwarts. For instance, it was suggested in the first movie Newt is in a semi-romantic relationship with Leta Lestrange (Zoe Kravitz), or at least a very close friendship and she was involved in the incident that got him expelled.
According to Eddie Redmayne, the adult Newt Scamander, this a relationship where the status is definitely "It's complicated." Speaking to Entertainment Weekly, he said:
Leta, it's one of those relationships where there was definitely great love there. But was it ever a full-blown relationship? I don't know. But certainly, she's somebody who has touched him hugely. At the beginning of this film you realize she's now in a relationship with Newt's brother so, of course, that comes with great complications.
Will fans also see flashbacks to Newt's relationship with his sibling? Potterheads know Newt hasn't always gotten along with his older brother, Theseus Scamander (played by Callum Turner), who is easy going and popular, all the things Newt is not.
The trailer definitely reveals the two of them will work together, at least at some point, but how and why this happens, and how the two of them get there is still unknown.
Fantastic Beasts: The Crimes of Grindelwald will apparate into theaters this coming fall, on Nov. 16, 2018.