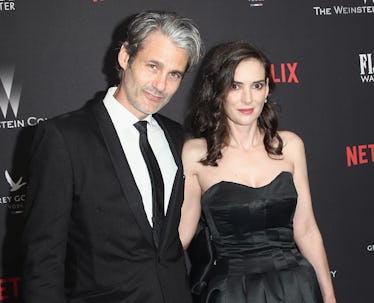 Winona Ryder Has Been With Her BF For 7 Years & They Seem Perfect Together
Tommaso Boddi/Getty Images Entertainment/Getty Images
The Golden Globes this year overlooked Winona Ryder's brave performance as Joyce Byers, the forever anxious mother of son Will. But with Stranger Things Season 2 still receiving a general Best Drama nomination, she'll be there at the awards dinner, facial memes in tow. But who will be on her arm? Does Winona Ryder have a steady partner for these types of events? Yes, she does. Who is Winona Ryder dating anyhow?
Despite fans hoping for Jopper, it's not David Harbour. Most fans remember Ryder for her relationship in the 1980s with Johnny Depp, back when she was 18 and he was 27, but that actually was fairly short lived, despite the headlines and the engagement. She's also been linked with a ton of celebrities since, both from the acting and music world, including Keanu Reeves, Tom Green, and Dave Grohl of the Foo Fighters. She even was engaged to marry Matt Damon at one point as well.
But since this decade began, Ryder has been seeing the same person, and he's not someone who is a big household name. For the past seven years she's been with Scott Mackinlay Hahn, a fashion designer. His line, which he co-founded with Rogan Gregory, is called Loomstate, a socially-conscious clothing line that's big into sustainable apparel.
The truth is, Ryder has dated a ton of guys over the years, but this is the one she's been with the longest in her career. He's also younger than her, despite the silver fox look, a reported mere 37 to her 46.
So what's up with the long term dating? Is Ryder going to marry this one? Actually, she may not. Talking to Net-A-Porter's The Edit about her relationship, Ryder says despite the multiple engagements, she may never actually pull out the stops and jump in feet first.
I'm a serial monogamist. I was single for a while and dating and... I just didn't know how to do it! I've always been like that: when I was 15, there was a guy I liked, and we made out, and I thought that meant he was my boyfriend. My mom had to explain it to me.
But marriage? I don't know. I'd rather never have been married than been divorced a few times. Not that there's anything wrong with divorce, but I don't think I could do it if that was a possibility. When your parents are madly in love for 45 years, your standards are really high. But I've been happily with someone for quite a while now.
So what do we know about Mackinlay Hahn? Not much. He eschews social media, and he's not big into streaming things from the internet either. (Sorry Netflix.) According to his sparse bio on the Loomstate website, he's more active and an activist, listing forest conservation and body-surfing as his hobbies.
The conservation angle also leads into his work at Loomstate. In one of his rare interviews back in 2012 with Time Magazine, Mackinlay Hahn was passionate about organic cotton farming.
It's a constant, fine line to walk, but we air [sic] toward the design narrative because that's where people's attention is focused. But green fashion and the conversation is moving quickly from romantic and idealistic to a very technical and measured practice, thanks to collaborations and tools like the Higgs Index. And that allows companies to be quieter about that green message and just make great product.
Sounds like he's quite a guy, and one that Winona Ryder has found happiness with. Between that and her revived career on Stranger Things (which is preparing to start filming Season 3 in the beginning of 2018) this just might be her Best Decade Ever.