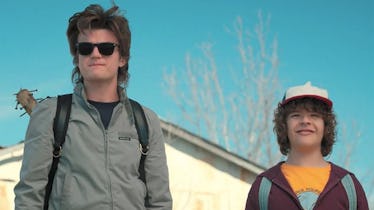 Here's Everything We Know About The New Character In 'Stranger Things' Season 3
NETFLIX
From looming demogorgons to mysterious ice cream shop employees, Stranger Things has no trouble catching fans' attention with a single image or a quick teaser. The latest trailer for Season 3 is no exception, and this time the Hawkins crew is stirring up way more questions than answers. On Sunday night, Netflix surprised fans by dropping a minute-long teaser for Stranger Things Season 3. The biggest takeaway is the name of a possible new character, leaving Stranger Things fans wondering: Who is Suzie?
Back in 2016, Netflix released a Stranger Things Season 2 trailer that cryptically listed phrases over the score of the series theme song. Many fans guessed that those phrases were the names of the Season 2 episodes. They were mostly correct, since the phrases in the video almost perfectly corresponded to the episode titles. Those that didn't pointed to key plot points, like the rotten ground covering up the Upside Down was alluded to with the phrase "The Pumpkin Patch." So no matter what, Netflix definitely teases some key series info in these trailers. This time around for Season 3, Netflix used a play from their own book by releasing all the Season 3 episode titles in the latest trailer, sparking some intense fan analysis (OK, let's be real over-analysis) of each and every word.
The first of the phrases in the Season 3 teaser is "Suzie, Do You Copy?" Since we haven't met a Suzie yet in the past two seasons, it looks like Season 3 will introduce a new character with that name. Netflix has already released some info about some other new characters, like Robin (played by Maya Hawke), who works at the Scoops Ahoy ice cream shop with America's favorite boyfriend Steve. We even got a a little sneak peek at Robin and Steve at work in the new Hawkins Starcourt Mall in the first Season 3 trailer. So we know Suzie isn't Steve's adorably awkward coworker.
The only other reference to a person in the teaser is in the title "The Case of the Missing Lifeguard." So is Suzie the lifeguard in question? Chances are, unfortunately, no. It's already been announced that Francesca Reale has been cast as a popular lifeguard named Heather, so Heather is most likely the lifeguard who's gone missing.
Some fans are theorizing that Suzie isn't actually a new character at all, but is actually the codename for a fan favorite character. On Reddit, some fans have posited that Suzie is actually a code name for Eleven. One fan noted that "do you copy" is a phrase the boys often repeat when they're communicating with each other over supercoms, so it's likely that the mysterious Suzie is now a part of these conversations. Maybe the gang is just taking extra precautions to protect Eleven's identity by calling her Suzie?
Then again, Stranger Things has introduced one character named Susan: Max Mayfield's mother. Maybe in Season 3 Susan gets more involved in the goings-on of the Upside Down and acquires a new nickname along the way? Seems unlikely, but you truly never know with Stranger Things.
Suzie's true identity likely won't be revealed until Stranger Things Season 3 is released in 2019. In the meantime, you can watch the teaser trailer below and form your own theories.