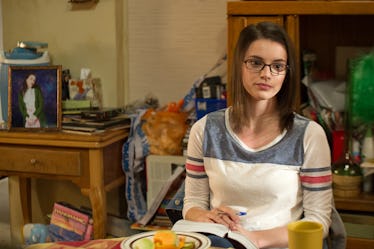 'Stranger Things' Season 3 Just Got A New Recurring Character & She Might Look Familiar
Netflix
Stranger Things 3 filming is finally underway after a far longer delay than between the first two seasons. The Netflix change in strategy for greenlighting new seasons caused a good six-week delay, but the lessons the Duffer brothers learned from Season 2 filming also lead to more time given to pre-production before diving in with camera in hand. As work continues, casting announcements are emerging, and the latest news is Stranger Things has cast Francesca Reale in a brand new recurring role for the new season.
Stranger Things likes to make splashes by pulling out big name stars from the 1980s as part of their roster. Season 2 brought on Alien's Paul Reiser and The Goonie's Sean Astin. For Season 3, the show has already announced The Princess Bride's Cary Elwes and Jake Busey, son of 1980s star Gary Busey.
But with this latest announcement, Stranger Things has gone as close to an in-house casting as it gets. Francesca Reale's first major role was on a neighboring Netflix show which wasn't so lucky when the automatic renewal disappeared. She was one of the stars of Haters, Back Off! a comedy series from the mind of YouTube personality Colleen Ballinger. Ballinger played Miranda Sings, one of the characters she'd developed on YouTube, who was an untalented star who kept failing upwards by sheer effort of will. Reale played her younger sister.
Haters, Back Off!'s second season aired almost simultaneously with Stranger Things 2. The former was released on Oct. 20, 2017, and the latter a week later on Oct. 27. But when the renewals came around in December, Stranger Things was greenlit to continue, and Haters was canceled. There was some hope YouTube, who has begun to get into the scripted TV game, might pick it up, but with Reales finding herself a new show to call home on Netflix, it seems it's not to be.
So who is Reales playing in the world of Hawkins, Indiana? Is it anything like the nerdy and sensible voice of reason for Haters? Here's the character description, via Variety, which broke the casting news.
Reale will appear in the recurring role of Heather, a popular lifeguard at the Hawkins community Pool. The exact details of how she will factor into the story are being kept under wraps, but it is known that Heather will become the center piece of a dark mystery.
Doing a little math, this means Heather has to be at least 15 years old, because the American Red Cross doesn't certify anyone younger, making it the youngest age community pools will hire. (Some insist on lifeguards being 18, but this being the 1980s, I'd assume not.) That makes her at least a full year older than Mike, Eleven, and the rest of the crew, if not more. (They were 13 in Season 2, and one of the few things confirmed about Season 3 is it will be set a year later in 1985.)
She might even be peers with Nancy and Jonathan, who are going to be 17-18 years old and seniors this coming season. But a better bet is she's slightly younger than they are, perhaps an unobtainable crush for Dustin or Will? That she becomes the center of the mystery suggests her relationship to the gang may be via Will, and like Will Byers, she too disappears. (Actor Noah Schnapp was a "recurring" role in Season 1 due to Will's lack of screen time, even though he was the center of the mystery.)
Fans will find out when Stranger Things 3 arrives on Netflix. The new series is expected to arrive at the end of 2018 or the beginning of 2019.