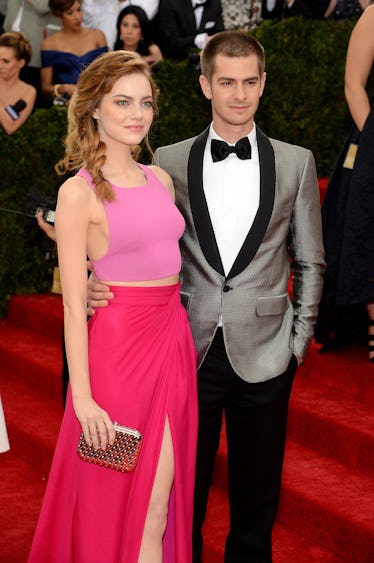 Andrew Garfield May Be Moving On From Emma Stone With This Actress
Dimitrios Kambouris/Getty Images Entertainment/Getty Images
To those of you aching for Andrew Garfield and Emma Stone to get back together, don't hold your breath. Andrew Garfield is reportedly in a new relationship. According to Us Weekly, Garfield is dating Susie Abromeit! Who is Susie Abromeit? Well, she's a tennis player-turned actress/musician. If you're a Marvel fan, you've seen her as Pam in the Netflix series Jessica Jones. According to her IMDb page, she's also been featured in CSI: Miami, CSI: Crime Scene Investigation, Chicago Med, and Devious Maids, among other things. A source told Us Weekly that Abromeit and Garfield were seen kissing in Malibu recently as well as on what appeared to be a dinner date a few days later. Elite Daily reached out to Garfield and Abromeit's teams for comment on this reported relationship, but did not hear back by the time of publication.
"She had a certain level of glamour," the eyewitness told the outlet. They were apparently seen at Inn of the Seventh Ray having dinner — a restaurant that refers to itself as "Los Angeles' most romantic restaurant," so that's a bit telling. Another eyewitness apparently saw the pair at Disneyland just a few days later, saying "they were laughing about something" while near the Thunder Mountain ride. There aren't many details revealed about their relationship just yet, but seeing as Garfield and Emma Stone kept their reported relationship pretty private throughout its duration and Abromeit has kept her private life to herself from the jump, we likely won't hear much talk about their reported romance directly from them.
Jamie McCarthy/Getty Images Entertainment/Getty Images
Neilson Barnard/Getty Images Entertainment/Getty Images
According to Abromeit's Instagram, she's the co-creator of a new series called Famous Adjacent, but there's little information on what network the show will be released on (if it is released).
The trailer for it is a whirlwind, though.
Us Weekly also reports that she's a Not For Sale ambassador — an organization dedicated to ending human trafficking.
It seems like Garfield and Abromeit are in the beginning phase of their reported relationship. Garfield famously dated Emma Stone previously, and the exes have nothing but kind words of support in regards to each other. Although they broke up in 2015, Garfield told Vanity Fair's Little Gold Men podcast in January 2017 that he and Stone have all the love in the world for each other. "We care about each other so much and that's a given, that's kind of this unconditional thing," he said. "There's so much love between us and so much respect." He continued,
I'm her biggest fan as an artist. So for me, it's been bliss to be able to watch her success and watch her bloom into the actress that she is. And it's been wonderful to have that kind of support for each other. It's nothing but a beautiful thing.
Garfield and Stone serving a master class in being amicable exes here.
Garfield apparently really loves Disneyland, as he went with Abromeit recently and apparently was taken there as a surprise by Stone when they were still dating.
He told W magazine in 2017 that Stone and a couple of their friends once took a bunch of pot brownies and went to Disneyland completely stoned (stoned with Stone, ha ha. GET IT?). "They came out to L.A. to surprise me," he said. "We went to Disneyland. We ate pot brownies. It was literally heaven. How about Space Mountain three times in a row?" He continued, "I freaked out on It's a Small World. I was like, 'It is a f*cking small world.'"
No news yet on whether or not Garfield and Abromeit were high as a kite when they went on their date to Disneyland, but I will find the TRUTH!