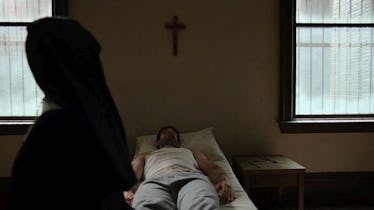 A Major Character Is Joining 'Daredevil' Season 3 & It Means Big Things For Matt Murdock
Netflix
When we last left The Defenders on Netflix, our heroes Luke Cage, Jessica Jones, and Danny Rand all believed their compatriot Matt Murdock had died. But as we saw in the closing seconds, that wasn't true. Murdock was laying in a bed in a Catholic convent, with nuns nursing him back to health. Obviously this leads into our next stand alone season of Daredevil. But where is Matt? Who are these nuns? How did he escape the collapsing building? And who is Sister Maggie on Daredevil?
Unlike the shows of his aforementioned hero buddies, Matt Murdock has already had two seasons of his show, as opposite to the single season everyone else has had. So there's a bit of catching up to do before we get back to his storyline. First Jessica Jones will start searching for the people who made her in her eponymous second season, and then Luke Cage will have his Season 2 following that. (Whether Danny Rand will get a second round of poorly received Iron Fist episodes remains to be seen.)
But despite the delay, we're beginning to get clues of where Daredevil's next season is heading, and most importantly who one of those nuns looking after Matt is. It's Sister Maggie, who is a major figure in the comics. She'll be played by Joanne Whalley, the esteemed British actress known for such classic films as Willow and Dance with a Stranger. In more recent times, fans will have seen her in Gossip Girl, Wolf Hall, The Borgias, and The White Princess.
Marvel played down some of Sister Maggie's biography in the comic books in their announcement, leading some fans to speculate that that the show is either trying to keep her connection to Matt under wraps as a spoiler, or might choose to go in a different direction. Marvel's official description of the character is as follows:
Whalley will portray Sister Maggie, a strong-willed nun who speaks her mind and cares deeply about Matt's safety.
Executive producer Jeph Loeb told Marvel.com:
We are big fans of Joanne's work and are fortunate that someone of her caliber will be joining our already talented family.
So what is the big spoiler the show is trying to keep on the down low? Keep scrolling!
Warning: Spoilers for the Daredevil comics follow.
Sister Maggie was first created for the comics in the mid 1980s by the legendary Frank Miller. Miller wrote the Daredevil comic story line "Born Again," which fans have previously speculated Season 3 will pull from.
In it we meet Sister Maggie, who in a previous life was Maggie Murdock, mother to Matt. Her struggles with postpartum depression caused her to abandon her family, and join the nunnery. "Born Again" is also marked by Kingpin (aka Wilson Fisk, played by Vincent D'Onofrio) discovering that Matt Murdock and Daredevil are the same person and going after them both.
Now, some of the "Born Again" storyline is probably right out, as it also involves Karen Page turning into a heroin addict. Considering the character is pulling double duty with both Daredevil and The Punisher, there's probably not time to fit an addiction arc into her life.
Since they'll be loosely drawing from that plot, that does mean that Sister Maggie could be changed as well. She could become a merely "highly concerned nun" rather than Matt's actual mother. But with an actress of this caliber in the role, it's hard to imagine that they won't be tying her in deeply to the plot framework in order to keep her around another season if possible.
Daredevil Season 3 is still in the process of filming, and is expected sometime in late 2018. Jessica Jones Season 2 debuts March 6, 2018. Luke Cage Season 2 has completed filming, but does not have a premiere date yet. All will be streaming on Netflix.