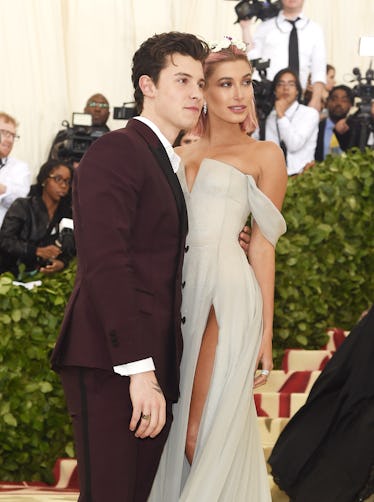 Here's What We Know About Shawn Mendes & Hailey Baldwin's Relationship After The Met Gala
Jamie McCarthy/Getty Images Entertainment/Getty Images
People are still reeling from the 2018 Met Gala and for good reason! The event brought some of the fashion world's greatest talents and celebs together for an evening of red carpet glamour. Given the Gala's history of making celeb couples official, the 2018 event left the world wondering one question: who is Shawn Mendes dating? While Mendes attended the Met Gala with model Hailey Baldwin, there's still some doubt about whether the two are actually dating.
Although it initially seemed like Mendes and Baldwin were making their union red carpet official at the 2018 Met Gala, Mendes is continuing to play coy about what's going on between them.
In a recent interview with W magazine, which was published on May 8, Mendes explained that he and Baldwin are simply friends:
We're really good friends. It's funny, she's such a pro with this type of stuff. I want it to be amazing for her, so I've been trying for the past 24 hours to be really silly so that she stays on. I'm happy to walk with her — she's amazing.
How sweet! It's obvious that Mendes, 19, cares for Baldwin, 21, a great deal and wanted to make the night really special for her, so that's really nice.
But that does nothing to quell the rumors that have been swirling around the two for the past several months.
Rumors started making the media rounds back in October 2017 when Mendes was spotted with Baldwin at a Halloween party in Hollywood. Later, in December, the two friends spent quality time together over Christmas in Mendes' native Toronto.
In March 2018, Baldwin clarified her relationship with Mendes when asked if he was her date at the iHeart Radio Music Awards:
He's a friend of mine and we hang out, so I see why people obviously want to make assumptions. Any guy I hang out with people are like, 'Oh, she must be dating him or something's going on,' but I don't ever really feel like I have to explain myself. It's kind of my business and the other person's business. That's it.
That's a great attitude to have about the whole situation. Despite their protests, though, Mendes and Baldwin are keeping fans and the media on their toes. In addition to playing coy in interviews, the two have been sharing bits of their lives on social media.
For example, Mendes posted a photo of himself and Baldwin on Instagram in early April 2018:
In an interview with NRJ Norge, Mendes said he posted the photo kind of on a whim, but not before checking with Baldwin:
She texted me and I was like, 'That's an awesome photo. I really wish I could post that without the internet exploding,' and she's like, 'I know. It'd be so nice, wouldn't it be?' and I was like, 'You know what? I'm just going to post it.
And now, there's the Met Gala to consider. So, are they or aren't they? Neither party has actually confirmed or denied that they're an item, and they seem keen on continuing to be coy about it!
One thing's for sure, though: fans are 100 percent behind the idea of them as a couple. And if the Internet is "exploding" as Mendes mentioned in that interview, then the fans must be supportive of the relationship.
Either way, it's great to see that Mendes and Baldwin are on the same page as far as privacy goes. Whether they're just good friends or something more, at least they respect each other enough to keep the other's best interests at heart!