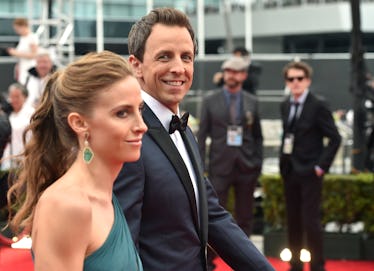 5 Things To Know About Seth Meyers' Wife, Alexi Ashe
Alberto E. Rodriguez/Getty Images Entertainment/Getty Images
The Golden Globes are fast approaching, arriving just the other side of the holiday break. This year, Seth Meyers, of Late Night With Seth Meyers fame, will be hosting. But who will be on his arm? Does Meyers have a steady date, or does he arrive single? Turns out, Meyers has been married for four years and counting. Who is Seth Meyers' wife, Alexi Ashe? Is she an actress in Hollywood like him? Why have we not heard of her before?
Alexi Ashe is not an actress, nor is she a comedian. Unlike some from the comedy world, like Steve Carrell, she's not a fellow improv person he married. Nor, like Steve Colbert, is she a childhood sweetheart.
Meyers actually met Ashe after he was already a fixture on Saturday Night Live, and a semi-famous name. Until he met her, Meyers had only been casually dating, unable to find anyone he could "see himself with" long term. Then Ashe walked into his life, in a very rom-com kinda way, and proceeded to marry him after a long courtship period, despite having food poisoning on her wedding day.
Sounds like something out of a Saturday Night Live-spawned film? Let's run down who Ashe is and how they met.
Human Rights Attorney
Much like George Clooney, Meyers married up, way up. Ashe is a human rights lawyer and the Assistant District Attorney under the King's Country District Attorney. (For non-New Yorkers, King's County is just a fancier way of saying the borough of Brooklyn.)
She and Meyers are polar opposites not just in terms of careers, but also in terms of schooling. She's a graduate of Southwestern University. He graduated from... Northwestern University.
How They Met
So, how does a lawyer end up with a funnyman like Meyers? Turns out Ashe's sister is the set designer for Saturday Night Live. In 2008, former longtime SNL cast member Chris Kattan got married, and Ashe attended the wedding as her sister's guest. She and then current cast member Meyers met there, and (at least according to him), it was love at first sight.
It took them dating for five years before they finally decided to tie the knot themselves in 2013.
She Works Hard On Behalf Of Women
Ashe isn't just the Assistant DA for Brooklyn. She also works hard on behalf of women around the world, including causes like stopping human trafficking. She's also working to stop domestic violence. Oh and she does all of this pro bono, since she and Meyers don't need the money.
It's this kind of interest in the politics and the rights of women that is part of why we know that Meyers' family walks the walk along with him talking the talk on Late Night. Meyers is known for intelligent, deep-dive segments on his "A Closer Look" segments. While he's drawing attention to the hypocrisy of the day, she's doing something about them.
She Named Her First Born After Herself
One of the hardest things as a feminist is the realization that your kids won't have your last name. Despite the forward motion women have made in not taking their husband's last names, in the end, the kids they carry still do.
Meyer's wife came up with the perfect solution to this problem. Her firstborn son, who came along just over a year ago in 2016, she named Ashe, insuring that he has both family names that he will carry with him for life. Its not something everyone can get away with, but Ashe Meyers is a pretty good name for a boy.
She's Expecting Her Second In 2018
If Alexi Ashe shows up for the Golden Globes next month, she will be sporting her second baby bump. Meyers himself made the announcement to his family, live on Late Night with Seth Meyers, just a few weeks ago. Mazel tov!