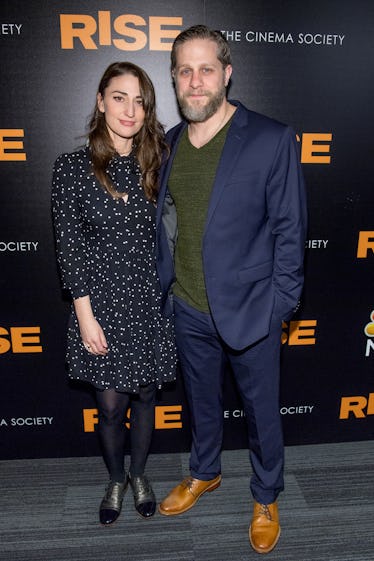 Sara Bareilles & Her Boyfriend Are What Broadway Dreams Are Made Of
Roy Rochlin/Getty Images Entertainment/Getty Images
The cast of NBC's Jesus Christ Superstar Live in Concert is a who's who of musical talent. Leading off the cast is R&B crooner John Legend, rocker Alice Cooper is the wicked King Herod, and singer-songwriter Sara Bareilles is starring in the lead female role of Mary Magdalene. This is her first major acting project since last year's stepping into the role of Jenna Hunterson in the Broadway musical she scored, Waitress. But what else has Bareilles been up to off the stage? Who is Sara Bareilles' boyfriend? Is he someone who shares her musical passions?
Turns out she's dating one of her former Waitress co-stars and current star of NBC's midseason series Rise, Joe Tippett. But this wasn't a whirlwind on-set romance. The two of them actually met far before they trod the boards on the Great White Way. According to People Magazine, they first worked together a couple of years prior in 2015, when Waitress was still in the "out-of-town tryout" phase, off at the American Repertory Theater in Cambridge, Massachusetts.
Their relationship evolved off stage though. In fact, Tippett and Bareilles never actually performed together once it moved to Broadway.
A stage veteran with credits in Broadway's Airline Highway, he played Earl, the moody husband of the story's protagonist Jenna — though didn't transfer with the production when it first moved to Broadway in April 2016. Tippett's in the part now though, having begun performances on Tuesday. Sadly, he just missed Bareilles — who completed her sold-out run as Jenna on Sunday.
Bareilles credits getting into Broadway and stage shows after her time on NBC's too-short series The Sing-Off in the third season. According to People, she said:
My life is so different because of Waitress. The people that I'm close to, the things I do professionally, my colleagues, my best friend and my boyfriend, like all of these things have come to me because of the show. And it's really beautiful.
She and Tippett are obviously supportive of each other's projects as well, with Bareilles joining Tippett on the red carpet premiere for the Rise premiere a few weeks ago. According to People, the pair has been stepping out together a lot in the last year.
Both have made numerous public appearances together over the past few months, including the opening night for The New Group's play All the Fine Boys in March... They also attended Sunday's 2017 Tony Awards together, where they looked adorable while posing on the red carpet. He even gave Bareilles a sweet kiss on the cheek at one point — as she smiled gleefully for the cameras.
With both halves of the couple involved in NBC productions, fans hope that Tippett will return the favor when Jesus Christ Superstar Live in Concert premieres this coming Sunday.
For those who aren't familiar with the Andrew Lloyd Webber and Tim Rice penned show based on the Easter Resurrection myth, here's the synopsis for the NBC live event.
Set during the final week of Jesus' life, the story is told from the perspective of infamous betrayer Judas Iscariot. As more and more followers flock to Jesus, Judas grows concerned that Jesus is becoming arrogant and losing sight of his principles. So when Jesus attacks the money changers in a temple, Judas finally turns on his teacher, setting both on a path to tragedy. Originally conceived as a concept album that hit No. 1 on the Billboard charts, the show eventually made its way to the stage in 1971 and garnered five Tony nominations in addition to winning a Drama Desk Award for Andrew Lloyd Webber.
Jesus Christ Superstar Live in Concert airs on Easter Sunday, April 1, 2018, at 8 p.m. EST live on NBC.