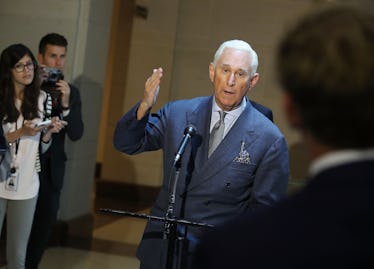 Another Key Player In The Trump Campaign Is Reportedly A Target Of The Russia Investigation
Mark Wilson/Getty Images News/Getty Images
Scrutiny of one of President Donald Trump's most notorious advocates is apparently increasing as the investigation into alleged Russian meddling continues. Another figure in Trump's orbit, Roger Stone might be key in the Russia investigation as FBI Special Counsel Robert Mueller looks into possible obstruction of justice and collusion with Russia by the Trump campaign leading up to the 2016 presidential election. New developments in the investigation point to what Stone's role in the investigation might be moving forward.
Stone, a former advisor to Trump's 2016 presidential campaign, has long been a Republican political operative. Having known Trump "intimately" for almost 40 years by his own account, he left the campaign in August 2015 but has remained a staunch supporter of the president since. Stone is now reportedly under scrutiny by the special counsel for his role — legal or otherwise — in helping get his friend elected.
Why Stone is on the special counsel's radar in the first place has to do with his alleged connections to sources that are believed to have helped obtain and disseminate stolen emails from the Democratic National Committee (DNC) ahead of the election. Stone is alleged to have been in contact with Julian Assange of WikiLeaks and Guccifer 2.0, the "hacker" believed to be a front for Russian operatives, though as of Aug. 14 he has not been charged with any crime. Stone previously denied having any contacts with Russia, per Mother Jones, but later acknowledged that he had been in contact with the WikiLeaks and Guccifer 2.0. Stone also admitted that he is probably the unnamed American described in Mueller's July indictment of 12 Russian nationals charged with hacking in advance of the election.
According to a Mother Jones report from Aug. 13, Mueller is combing through Stone's emails, another sign that he may be next on the special counsel's list. The special counsel's press office declined to comment to Elite Daily on the reports and whether Stone was a subject of interest in the investigation.
The Russia investigation has already turned up quite a lot. Mueller has indicted and obtained plea deals from more than two dozen individuals since being assigned to the probe in May 2017, including four members of Trump's presidential campaign team. (One of them — Paul Manafort — is currently on trial for bank and tax fraud, for which he has pleaded not guilty.)
Now, several of Stone's close allies and associates have been called in to testify before Mueller's grand jury, signaling that Stone himself may be next. Mother Jones reports that at least eight associates of Stone's have been questioned or subpoenaed by Mueller, a sign that may Stone may not be far behind them. One of them is Kristin Davis, a former leader of a prostitution ring known as the "Manhattan Madam," who has been close with Stone for at least a decade, per The Hill. Davis testified on Friday before the grand jury in the Mueller investigation. She told CNN after the testimony that although she didn't personally believe "something happened" with Stone, reportedly alluding to collusion with Russia, she believed that the Mueller investigation was targeting him and that there was reason for him to be concerned.
Several legal experts, according to The Hill, have said that the fact that Stone hasn't yet been brought in by Mueller's team for questioning isn't a reassuring one for him. This is in line with what former federal prosecutor Renato Mariotti previously told Elite Daily: That prosecutors will typically wait until all other witnesses have been interviewed and all pieces of information gathered before bringing in the target of the investigation. So the fact that Stone has yet to come before Mueller may actually be a strong indicator that he is, in fact, a target. To be clear, as of Aug. 14, Stone has not been accused of or charged with any crime.
But unlike others in the Trump orbit who have signaled a willingness to cooperate with Mueller's team — like his former personal attorney Michael Cohen and his former campaign official Rick Gates — it's unclear whether Stone would do the same if faced with similar circumstances.
"There is no circumstance in which I intend to be pressured in order to testify against the president," Stone told CNN's OutFront on Monday, Aug. 13. "First of all, I have nothing that I could say about him that would be negative, and secondarily, I'm just not going to do that." But he also added, "I wouldn't rule out cooperating with the special counsel if I can be helpful in some area."
(Stone added that with multiple investigations on him currently, he's had to set up a legal defense fund, as his legal fees are expected to exceed $2 million.)
It's all speculation at this point as to whether and when Mueller will in fact tap Stone, and what he'll have on him when he does. But the signs for this Trump ally, as it stands, aren't looking good.