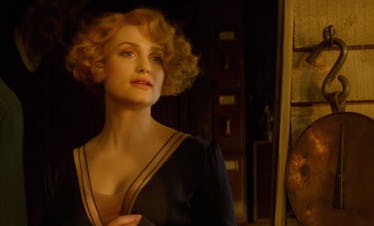 4 Things 'Fantastic Beasts' Fans Should Remember About Queenie Goldstein
Warner Bros. Pictures
Every Wizarding World movie needs a lovable group of friends to guide us through magical shenanigans, and the Fantastic Beasts franchise is no exception. Newt Scamander may have stumbled into his friendships with No-Maj Jacob Kowalski and the Goldstein sisters, but he's not the only one fortunate for their guidance and support. Fans adore Newt's band of misfits, but in case your memory is a little foggy, who is Queenie Goldstein? The glamorous American witch is due for another appearance in Fantastic Beasts: The Crimes of Grindelwald.
Looking like the poster child for 1920s fashion, Queenie (Alison Sudol) descended upon Fantastic Beasts and Where to Find Them like a breath of fresh air. What Newt (Eddie Redmayne) and Tina (Katherine Waterston) lacked in tranquility, she made up for with her friendly interest in others, and every fast-paced action film needs a bubbly sidekick to lighten the mood. While Queenie initially appeared as a typical beauty queen, the strength of her magical powers established her as a trustworthy, knowledgeable source. Upon Fantastic Beasts' release, Sudol told Pottermore:
Embracing this level of femininity has been a really interesting challenge for me. It really was difficult for me to go, 'Okay, I can be soft and feminine and strong and take care of myself and not lessen myself.' I've enjoyed that quite a bit, I've enjoyed wearing heels and a dress every day and having these lovely curls and soft fabrics.
If you plan to see Crimes of Grindelwald ASAP, here's what you should remember about Queenie Goldstein: